The future of food is in women's hands
16/10/2021
Posted by:

Sandra Borma

Category:

Angola, Caribbean, Ghana, Kenya, Liberia, News, Nigeria, Pacific, Uganda, Zambia, Zimbabwe
To celebrate World Food Day (16 October) and the International Day of Rural Women (15 October), COLEACP joins the United Nations in celebrating the unsung contribution of ACP women entrepreneurs to our food system.
Women are a significant entrepreneurial force as owners of farms, input supply stores, service delivery businesses, and processing and export firms whose contributions to local, national, and global economies have significant impact on poverty reduction, employment creation and wellbeing of rural communities and society at large.
So supporting women's entrepreneurship across the value chain is one of the most powerful routes to promote agriculture and agribusiness and to boost sustainable rural development.
The PAFO-COLEACP Innovation Series has been featuring women agribusiness entrepreneurs – here are a few examples.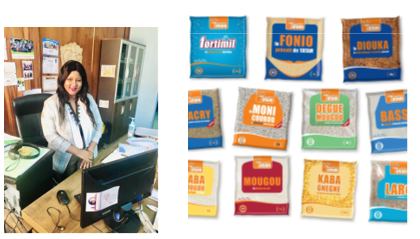 Halatou Dem is the Director General of Les Céréales de TATAM SARL, Mali, a company that produces and processes local cereals with high nutritional content (such as fortified millet flour, pre-cooked fonio, monicourou, diouka, etc.) in healthy, ready-to-eat be products sold across Africa, Europe and the USA. Initially, the company processed grains produced in Mali in an artisanal way. Halatou joined the company in 2010 and undertook to modernise the company and industrialise all the processing steps. This has reduced the risks related to artisanal processing, increased production volumes, and supported the underdeveloped processing sector in Mali.
Watch Halatou's presentation at Innovations Session n°1 here.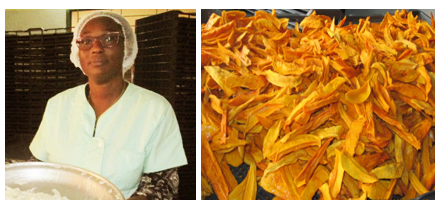 Alice Riouall is the Founder and CEO of Mango So, Burkina Faso, which processes fresh mango and coconut into organic and Fairtrade dried chips, mainly exported to international markets, mostly to France and Germany. Mango-So constantly anticipates and develops produces adapted to specific markets, such as mango jam and mango sirop for the local market. Its mission is to contribute to fighting poverty through creating employment, especially for women, providing them with financial autonomy and technical skills in the fruit and vegetable processing sector.
Watch Alice's presentation at Innovations Session n°1 here.

Affiong Williams is the CEO of Reelfruit, Nigeria, a company that creates new value chains by processing fresh fruit in value-added convenience products and snacks, and by building its own network for distribution. The processed mangoes, pineapples, coconuts, bananas and plantains are distributed in local and export markets, including through Amazon. The company aims to produce Nigerian food products that meet world-class standards and to market them everywhere; as well as to invest in the potential of Nigerian agriculture for wealth and job creation. ReelFruit also works actively to empower women by introducing female farmers to high-value mango farming.
Watch Affiong's presentation at the Innovations Session n°2 here.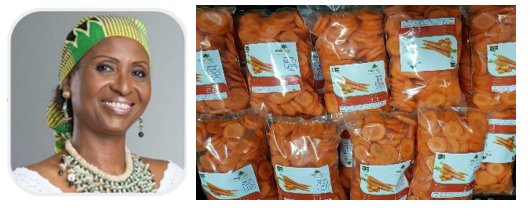 Catherine Krobo Edusei is the Managing Director of Eden Tree Limited, Ghana, which produces, packages and markets high-end fresh vegetables, fruits and herbs, as well as convenience foods, to promote healthy eating habits. The heathy value-added products are exported within West Africa. Eden Tree works closely with over 200 approved smallholder suppliers and helps them to develop their production, including by providing loans. Eden Tree has created jobs for urban farmers in Accra and the Ada area by providing training and education to its stakeholders. The company also pays tuition fees for the children of staff members, provides educational materials, and organises childcare to enable mothers to continue to work and attend to their children.
Watch Affiong's presentation at Innovations Session n°2 here.
Bertille Guèdègbé Marcos is the CEO of Les Jus Tillou, Benin, a family business producing fresh pineapples and processing them into organic juice and dried fruit. These quality products from environmentally friendly agriculture are exported to Europe. With the recent acquisition of a packaging facility, pineapple juice will also be supplied to the local market. In 2016, when the Beninese government decided to temporarily suspend exports of fresh coloured pineapples to the European Union, Les Fruits Tillou decided to focus on the production and marketing of organic pineapple and to invest in organic production and certification.
Watch Bertille's presentation at Innovations Session n°2 here.
Marie Ange Mukagahima is the founder and CEO of Zima Enterprise, Rwanda, a company that adds value to pumpkin and pumpkin seeds by processing them into pumpkinseed oil, pumpkin cookies, roasted pumpkin seeds and pumpkin seed flour. Zima Enterprise enables five rural cooperatives of women farmers and over 50 farmers to form a ready link to the pumpkin market. The company provides its farmers with high-quality seed for sowing, has provided farmers with solar dryers, and delivers training on the extraction and drying of pumpkin seeds.
Watch Marie Ange's presentation at the Innovations Session n°5 here.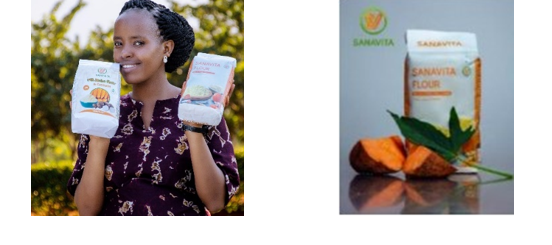 Jolenta Joseph is the founder and CEO of Sanavita, Tanzania, which adds value to crops such as orange fleshed sweet potatoes, beans and maize. The goal of Sanavita is to address the high rates of malnutrition in Tanzania; especially anaemia (which mainly affects women at reproductive age) and vitamin A deficiency (from which one out of three children under the age of six suffers). Sanavita delivers training in good farming and management practices, and offers consultancy on a range of issues including nutrition for special groups (community risk); nutrition for children under six years; malnutrition interventions; and production and quality of biofortified crops.
Watch Jolenta's presentation at Innovations Session n°5 here.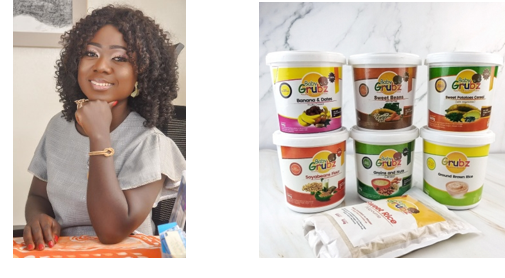 Oluwaseun Sangoleye is the founder and CEO of Baby Grubz, Nigeria, an innovative social enterprise based in Lagos which manufactures packaged infant meals and snacks made from grains, fruit and vegetables, and operates in Ghana, Togo and the United Kingdom. Baby Grubz aims to change the way babies are fed in Africa, and to reduce the high rates of malnutrition and poverty in Nigeria. Its products are prepared with "superfoods" sourced locally in order to tackle the major deficiencies in baby and infant nutrition. The target consumers are low- and middle-income women with children aged six months to five years. Baby Grubz also works with over 300,000 mothers to provide peer-to-peer mentoring on the benefits of nutritious foods and breastfeeding.
Watch Oluwaseun's presentation at Innovations Session n°5 here.