Focusing on young people
17/03/2021
Posted by:

Gaetan Dermien

Category:

News, Togo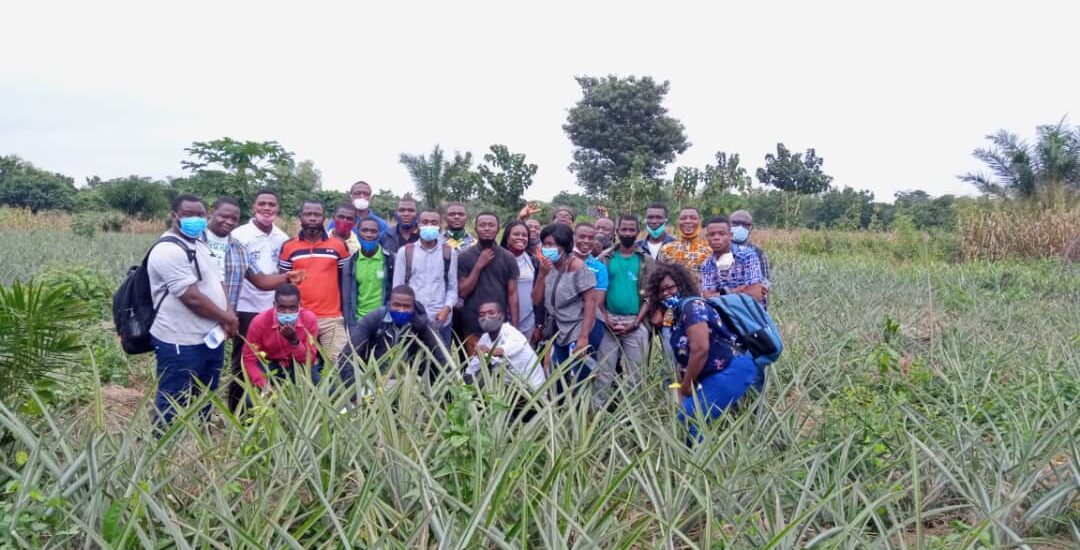 COLEACP'S INCUBATOR FOR FUTURE TECHNICAL MANAGERS IN HORTICULTURAL COMPANIES IN TOGO
In 2020, COLEACP started a new project in Togo – an incubator for horticultural technical managers. The project aims to help fill the gap in qualified technical staff on the Togolese job market (quality managers; packaging and production managers). This is achieved by training young graduates to enable them to become quickly operational for horticultural companies, through combining technical training and practical work experience in companies.
The project was made possible particularly thanks to the strong involvement of Togolese companies. During the round table of COLEACP members and beneficiaries in Togo in December 2019, they all expressed their full support for the project and committed themselves to welcoming and supervising the trainees.
Context
The Togolese horticultural sector is developing strongly, especially in exports of fresh and processed products. But companies are experiencing difficulties in recruiting and retaining qualified technical staff. This situation complicates the establishment and maintenance of phytosanitary quality management systems in enterprises, and the supervision of external producers.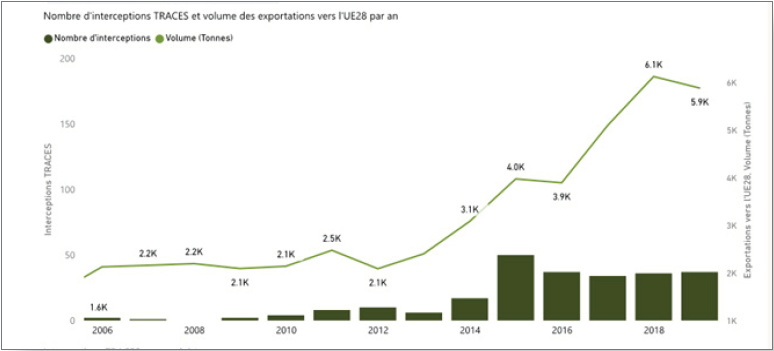 Togo: fruit and vegetable exports to the EU28, 2006–19, and phytosanitary interceptions
Faced with this situation, COLEACP decided to employ a specific capacity-building approach previously used in Mali. COLEACP's PIP programme had developed a training course on quality and traceability management in collaboration with AJEX, a professional organisation of young horticultural exporters. This first experience served as a starting point for the development of the incubator project in Togo.
Since 2016, COLEACP's activities in Togo for the benefit of the public and private sectors are implemented through:
its Fit For Market and Fit For Market SPS programmes, funded by the EU and implemented in the framework of development cooperation between the Organisation of African, Caribbean and Pacific States (OACPS) and the European Union; Fit For Market is also cofinanced by the French Development Agency
its project to strengthen the phytosanitary control and certification system for the fruit and vegetable sector in Togo, financed by the Standards and Trade Development Facility (STDF).
The training
COLEACP's training system aims to build the capacities of operators at different levels, based on adapted methodologies and different types of support (manuals, good practice guides, etc.).
All the incubator training sessions were conducted entirely by local experts, who had themselves previously received training-of-trainers from COLEACP.
Due to Covid-19 restrictions, adaptations had to be made quickly from the start of the training cycle in June 2020. The technical training courses were delivered in digital format via COLEACP's distance learning platform. Field visits including educational activities and training courses were organised in compliance with the health measures in force in Togo.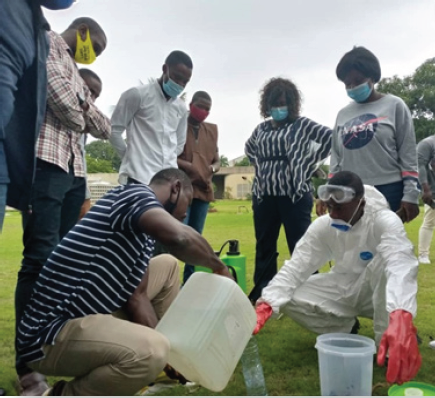 Course content and schedule
The training cycle, organised over eight months, consisted of six training sessions and combined technical and practical learning via internships in companies.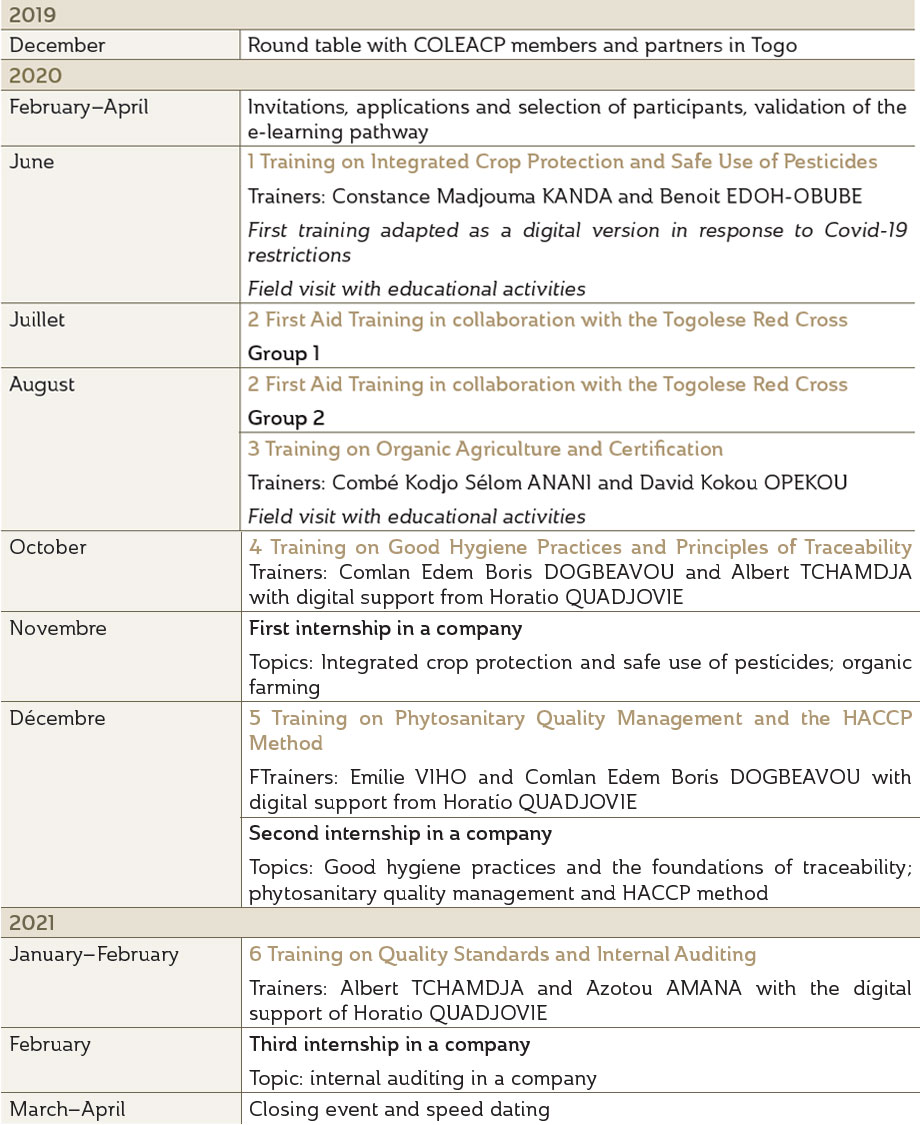 First Aid Training in collaboration with the Togolese Red Cross
Participants
The training course was aimed at young graduates with a minimum educational level of at least two years of higher education.
Following a call for applications relayed by the companies in Togo, 52 applications were registered and 22 candidates were selected to participate on the basis of their CV and covering letter, and the results obtained in the courses carried out on COLEACP's e-learning platform. All participants had to make an individual commitment to follow the entire training cycle.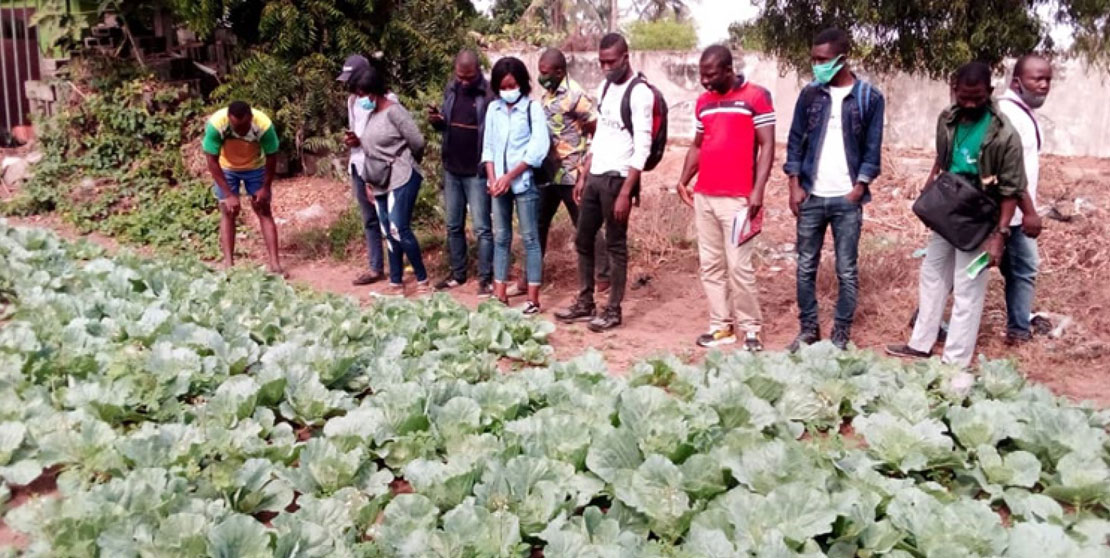 All 22 participants showed motivation and perseverance, and completed the entire training cycle despite the difficult context of Covid-19 restrictions.
The trainers, Togolese experts trained by COLEACP, also played a key role in the success of the incubator.
From training to speed dating
Currently, COLEACP is studying the possibility of organising a «speed-dating» event to promote the integration of participants in the incubator training into the labour market. All COLEACP member companies and partners in Togo will be invited to this event, along with all other Togolese horticultural companies interested in recruiting qualified staff.
This «speed-dating» will be organised in parallel with the closing event of the incubator project, provisionally scheduled for 29 April 2021 in person (to be confirmed depending on the evolution of the health restrictions linked to COVID 19). A digital platform to facilitate contacts between companies and trainees will also be set up in the coming weeks.
Synergies – GIZ Togo
Two GIZ Togo staff members participated in the first two incubator training sessions in order
to become familiar with COLEACP's training approach, with a view to further strengthening the
GIZ–COLEACP collaboration.

Internships in companies
Internships enabled participants to put into practice the theoretical knowledge they acquired during the training courses, with follow-up provided by the expert trainers.
The Togolese partner companies that opened their doors to trainees are:

Next incubator – Sierra Leone

A similar project focusing on responsible horticultural production, based on the Togolese experience, is planned for Sierra Leone in 2021–22.