World Food Day 2023: highlighting the importance of water for agriculture and food
16/10/2023
Posted by:

Sandra Borma

Category:

Corp EN, News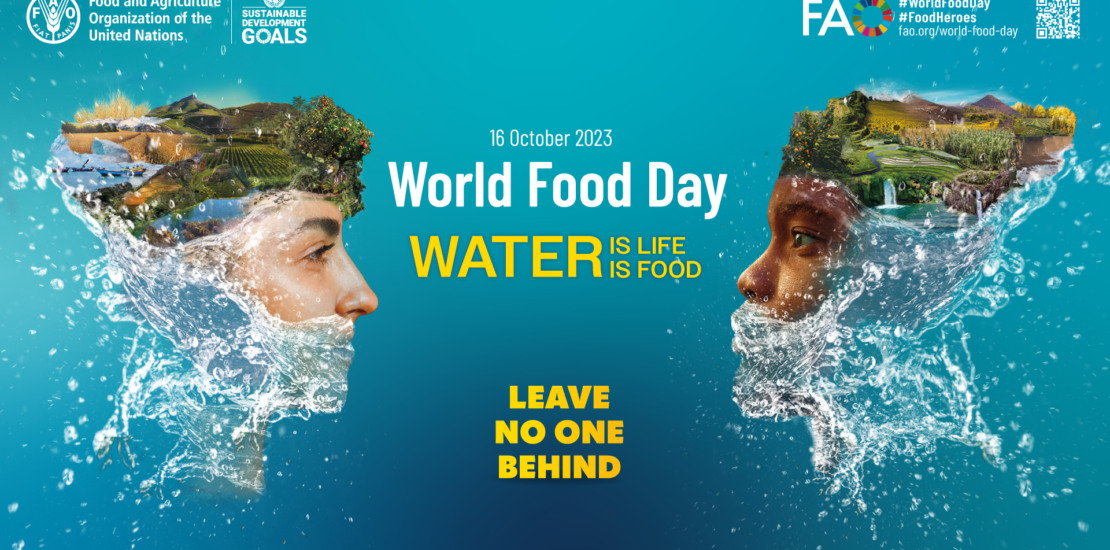 The 2023 World food Day – with the theme "Water is life, water is food. Leave no one behind." – highlights the importance of water as a finite and essential element to life. Despite covering 71% of the Earth's surface, only 2.5% of water is fresh and suitable for drinking, agriculture, and industrial use. Most of the fresh water available, 72%, is used for agriculture.
Rapid population growth increasing the global demand for food production combined with urbanization, climate change depleting or polluting freshwater resources has led to an unsustainable demand for the natural resource. Freshwater resources have declined 20% in the past decade, leading to 2.4 billion people today living in water-stressed countries. Those who are most affected by the are smallholder farmers, particularly women, Indigenous peoples, migrants, and refugees, as well as around 600 million people who depend on aquatic food systems for a living.
As a network that promotes sustainable agriculture, COLEAD recognises the importance in managing water as an essential resource in food production. COLEAD has developed manuals on sustainable water management and water-saving irrigation to effectively manage water consumption and waste, and use systems, such as irrigation, to effectively protect water resources. COLEAD's training on sustainable water management focuses on the foundation of water as a resource in agriculture, the global water system, water quality, and water rights. COLEAD's information of irrigation focuses on developing procedures to improve water retention of soil decreasing waste and improving crop health, reducing water requirements for land management, and diversifying and protecting water resources. These manuals and other resources documentations are available for free on COLEAD's E-Library.
COLEAD also promotes peer-learning and exchanges of goods practices and innovations, including through the organisation of the Innovations Series with the Pan-African Farmers' Organisation (PAFO). During these online sessions entrepreneurs, farmers, and small and medium-sized enterprises (SMEs) share their innovations and business models to transform food systems and promote sustainability in its social, economic and/ or environmental dimension(s). The last Innovations Session n°14 focused on climate-resilient practices and innovations by agrifood SMEs and discussed the need for adaptation options in agriculture, including by increasing the use of environmentally friendly technics and technologies agriculture to support particularly smallholder farmers, including with water management. Equally important is to address food losses and waste as food waste means also waste of the water used to produce agricultural products. Technological innovations in the agrifood sector and their adoptions by SMEs and entrepreneurs will be the topic of the next Innovations Session n°15 that will be held online on Thursday 9 November 2023, 12:00-14:00 UTC (register here).
In partnership with the Inter-American Institute for Cooperation on Agriculture (IICA), COLEAD also supports Caribbean innovative agrifood entrepreneurship and organises the joint Caribbean Agrifood Business Series. Session n°11 will focus on the role of agrifood businesses in promoting circular economy: successes from entrepreneurs and SMEs and be an opportunity to share experiences and practices to not waste natural resources, including water. The online session will be held online on Thursday 16 November 2023, 15:00-17:00 UTC / 10:00-12:00 AST (register here).
Photo Crédit : FAO