News Digest: Agri-food Markets, Production and Trade
28/10/2022
Posted by:

Gaetan Dermien

Category:

ACP EN, News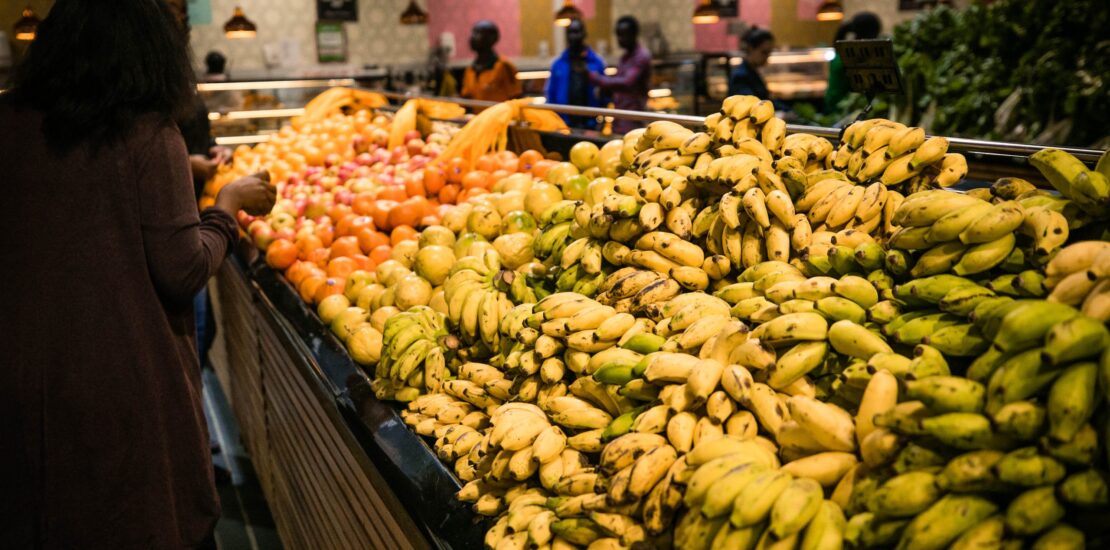 Agri-food
Africa
Changes to EU and GB pesticide maximum residue levels
Following the departure of the UK from the EU, Fresh Produce Exporters Association of Kenya's (FPEAK) monitoring of pesticide regulations now covers maximum residue level (MRL) changes in both the EU and Great Britain (GB), enabling FPEAK to keep members and partner-beneficiaries up to date. During the period April-June 2022, notifications of MRL changes were issued for flutianil (EU), sulfoxaflor (GB), cyantraniliprole (GB) and cinmethylin (GB). The EU and GB have also recently notified the World Trade Organization of additional proposed changes involving a further 20 substances including 12 that are key in ACP horticulture (chlorothalonil, cyfluthrin, ethoprophos, fenamidone, propiconazole, pymetrozine, benalaxyl, epoxiconazole, fenamiphos, clothianidin, thiamethoxam and abamectin).
Source: Fresh Produce Exporters Association of Kenya, 26 July 2022
New banana fungus is rapidly spreading across the globe
A new banana fungus, Fusarium wilt, is rapidly spreading across the world. The fungus hit Africa 10 years ago, but it is now spreading, according to a genetic study conducted by Wageningen University & Research (WUR) and Utrecht University. According to plant pathology professor Gert Kema and his colleagues, the disease poses a threat to Africa's food security. Fusarium wilt is advancing in Mozambique, where the dominant TR4 strain is affecting banana farms. Over the past decade, the disease has also spread from Asia to South America and Africa. The new study, conducted by Anouk van Westerhoven (WUR) and Michael Seidl of Utrecht University, shows that the TR4 fungus has spread as far as at least 200 km from the original site. Genetic research shows that the strains found in different locations are closely related, meaning that the pathogen found in Mozambique has a single origin. "The question is not whether, but rather when, the disease will spread to other African countries," says Van Westerhoven.
Source: Fresh Plaza, 23 September 2022
PAFO organises International Young Farmers Summit (IYFS2022)
The Pan-African Farmers' Organization (PAFO), with the support of its financial and technical partners, is organising the International Young Farmers Summit from 24 to 29 October 2022, in Kigali, under the theme: "Youth in agricultural transformation through innovation". Young farmer representatives from five continents will meet to discuss the challenges and difficulties they face, and also swap solutions and perspectives. This event is an opportunity for young farmers to present their proposals for the future of agriculture worldwide in the presence of representatives from international organisations, the agricultural world and civil society. The main objective of the Summit is to promote, strengthen and spread the voice of young farmers in the international arena.
Source: Pan-African Farmers' Organization, 1 October 2022
Ghanian minister woos investors for the coconut industry
Western Regional Minister Kwabena Okyere Darko-Mensah has appealed to investors to consider the huge opportunities that exist in Ghana's coconut industry and invest in it. The minister said that the government has to position the coconut industry as a key export earner and will provide incentives for businesses that opt to create employment opportunities in the coconut sector. "There is so much more that can be done with coconut but we have failed to capitalize on the marketing potential of the crop. Western Region is endowed with an estimated 14.500 hectares of in-land valleys with water resources for irrigated agriculture and contributes more than 80% of the country's coconut for export" said Kwabena Okyere Darko-Mensah. "I therefore call on investors to come to the Western Region and invest in the coconut industry. In 2020: I personally launched a 5 million coconut project in the Western Region. The project kicked off with the establishment of two new gardens in Shama and Jomoro Districts."
Source: Fresh Plaza, 26 September 2022
Pre- and post-harvest practices and varietal preferences of tomato in Ghana
A recent study published in the journal Sustainability provides key information on improving tomato value chains and the breeding of improved tomato varieties in Ghana. The study included 180 tomato-producing respondents from across seven regions in Ghana, who were predominantly male (81%), literate (84%) smallholder farmers generally cultivating less than 5 acres. The most important farmer and market preference criteria included: yield, fruit size, fruit shape, fruit colour, time to maturity and disease resistance. The major production challenges to tomato production included threats from pests and diseases, and poor access to water for irrigation. The major marketing challenges were low producer prices, low demand for produce, and competition from other farmers.
Source: World Vegetable Center, 1 October 2022
PlantwisePlus launches to help farmers in Ghana produce more and higher quality food
A new CABI-led worldwide programme – PlantwisePlus – launches in Ghana to help smallholder farmers produce more and higher quality food. Special emphasis will be placed on improving extension services for the country's female farmers who have limited access to advisory services, including plant health services due to various challenges. PlantwisePlus will support Ghana's Ministry of Food and Agriculture to predict, prepare and prevent a range of plant health issues which put food security and livelihoods at risk. The new programme will also work in partnership with the Plant Protection & Regulatory Services Directorate, the Environmental Protection Agency (EPA Ghana), the Ghana Green Label Scheme and the Council for Scientific and Industrial Research.
Source: CABI, 23 September 2022
Tissue culture technology should increase Kenyan potato yields
Currently, Kenya's average potato yield per hectare is around 10 tons. According to Anthony Kibe, principal investigator of a potato community action research project led by the Uganda-based Regional Universities Forum for Capacity Building in Agriculture, it has the potential to increase to three times that amount with the use of disease-free seeds. The forum's project in Kenya – one of 11 across Africa – has benefitted about 5,000 smallholders since starting in 2017. It gives farmers access to quality seeds through tissue culture. "Tissue culture offers an excellent technique for the rapid propagation of seed potato, offering high yielding disease-free planting materials," says Kibe. Tissue culture produces plantlets also known as apical root cuttings, and mini tubers (tiny potato seeds) which are clean and free of disease, Kibe explains, adding that the technology speeds up the multiplication of material to facilitate distribution and large-scale planting.
Source: Fresh Plaza, 3 October 2022
Kenyan fresh produce traders lose case to block new levy
Fresh produce exporters have lost a bid to stop the Kenyan government from imposing a 0.25% levy on the customs value of their export consignments. High Court judge Anthony Mrima dismissed the case filed by the Fresh Produce Exporters Association of Kenya, the Fresh Produce Consortium of Kenya, the Avocado Society of Kenya and the Avocado Exporters Association of Kenya. Mrima said they failed to prove how the disputed regulations infringed Article 201 of the constitution. It provides that there shall be openness and accountability including public participation in financial matters. The judge said he was convinced there was adequate public participation and consultation. The petitioners wanted the court to quash the 2020 crop regulations, designating them as 'unconstitutional'. They also hoped for an order stopping the Agriculture Ministry and other players from imposing, charging or enforcing collection of the fee.
Source: Fresh Plaza, 4 October 2022
Kenya: Global avocado demand still creates business opportunities in Africa
Demand for avocados has soared globally in recent years as consumers become aware of their health benefits. Kenya is now Africa's largest producer of avocados exporting about 80,000 tons annually. The country ships produce to Europe, the Middle East and also trades with other African countries including Egypt and South Africa. Farmers in Kenya are starting to shift from traditionally grown maize to avocados because of their better prices and yields. Small-scale farmers are shifting to avocados because of poor maize sales and changing weather patterns. In addition, farmers are able to harvest the crop continuously for 8 months. The country has also ventured into the Asian market in August this year, becoming the first African country to export fresh avocados to China. Kenya offers a favourable climate to grow avocados with many farmers investing in the Hass variety for export which tolerates different rainfall conditions and diseases. The variety is also easy to propagate.
Source: Fresh Plaza, 5 October 2022
The Nelson Mandela-African Institution of Science and Technology sign MoU with Floresta Tanzania
The Nelson Mandela-African Institution of Science and Technology (NM-AIST) recently signed a Memorandum of Understanding with Floresta Tanzania with the main objectives of building the capacity of smallholder farmers, staff and students through collaborative learning, experimentation and mentoring. The implementation of this MoU will start within the framework of the Farmer Research Network project in which NM-AIST will lead farmer's in evaluating pesticide plants and other sustainable pest management activities in farmer groups at Floresta Tanzania.
Source: Nelson Mandela-African Institution of Science and Technology, 10 September 2022
Tanzania Horticultural Association seeks investors for cold storage facilities
The Tanzania Horticultural Association (TAHA) has stated that existing cold rooms in the country are very few compared with those required, and those that are available need to be improved. Tanzanian perishable items are being exported to Europe, the Middle East and Asia, but lack of infrastructure is hampering the sector. According to TAHA Business Environment Manager Kelvin Remen, recently increased facilities will allow exporters to preserve their perishable items, which include flower cuttings, fruit, vegetables and other items, in case there is a delay in flights or if a consignment missed a flight.
Source: Fresh Plaza, 6 October 2022
Strength in seeds: investing in building capacity for improved vegetable production in West Africa
A recent diagnostic study conducted in Benin, Burkina Faso and Mali indicated that lack of quality seed and poor pest management are key barriers to vegetable production in West Africa. When vegetable farmers have little or no access to good quality seed, they cannot tap into the growing market for vegetables. To address this issue, The World Vegetable Center (WorldVeg) has developed a new training course for vegetable seed producers in Africa to help improve the quality of seed production and take their business to the next level. Three WorldVeg projects worked together to develop the course: Safe Locally Produced Vegetables for West African consumers (SAFEVEG) funded by the EU and the Kingdom of the Netherlands, Choose, Grow and Thrive (CGT) funded by the Federal Ministry of Economic Cooperation and Development (BMZ), Germany, and Veggies 4 Planet & People (V4P&P) funded by IKEA Foundation.
Source: The World Vegetable Center, 15 August 2022
PlantwisePlus launches to help farmers in Zambia produce more and higher quality food
A new CABI-led worldwide programme – PlantwisePlus – has launched in Zambia to help smallholder farmers produce more and high-quality food. PlantwisePlus will support Zambia's Ministry of Agriculture predict, prepare and prevent a range of plant health issues which put food security and livelihoods at risk. The new programme builds upon CABI's Plantwise and Action on Invasives programmes and will particularly empower farmers to increase income, food security and food safety amid a changing climate, which can exacerbate crop losses.
Source: CABI, 1 September 2022
GLOBALG.A.P. registered trainer supports the export of new superfood in Zimbabwe
Registered Trainers are agricultural experts who are supported by GLOBALG.A.P. to train producers, certification bodies, and other interested parties on the implementation of GLOBALG.A.P. standards. One such trainer, Clarence Mwale, owns the multinational company Fair-Mark, founded in Zimbabwe, that supports the agri-food industry. He has trained more than 1,200 rural smallholder farmers in the GLOBALG.A.P. certification of Bambara nut production processes. The nuts will soon enter the European market as a certified novel food for the first time. Bambara nuts originated in West Africa, and despite widespread cultivation across the continent, are largely unknown in Europe and North America. Potentially the next big superfood, the Bambara nut is an excellent source of plant-based protein, fibre, vitamins and minerals such as iron, calcium and magnesium. The plant is also resilient in harsh conditions and known for improving soil fertility in dry regions.
Source: GLOBALG.A.P., 31 August 2022
Caribbean
Prioritising high impact crop pests to safeguard the plant resources of the Caribbean
CABI's Naitram Ramnanan reports from the 15th meeting of the Caribbean Plant Health Directors Forum: prior to the meeting, experts examined a list of quarantine pests from nine CARICOM Member States. Thirty species were short listed, of which the following were prioritised: Rhadinaphelenchus cocophilus (red ring nematode), Fusarium oxysporum f. sp. cubens TR4, Ceratitis capitata (Mediterranean fruit fly), Ceratitis rosa (Natal fruit fly), rice panicle mite, Helicoverpa armigera (Old World bollworm), Ralstonia solanacearum Race 3 Biovar 2 (brown rot of potato), banana bunchy top virus, maize lethal necrosis disease, Rhynchophorus ferrugineus (red palm weevil) and Peronosclerospora philippinensis (downy mildew). The list serves as an early warning system for the countries that do not have these pests.
Source: CABI Invasives Blog, 26 September 2022
Growers in Dominica can now process their fruits through advanced tech
The Ministry of the Blue and Green Economy, Agriculture and National Food Security of the Commonwealth of Dominica has announced that the national Export-Import Agency has bought and installed a state-of-the-art, industrial-grade multi-fruit extractor for the processing and pulping of fruits for local juicing companies. The Ministry said that the farmers who are engaged in the production of mangoes, passion fruit, guavas and pineapples are eligible to use the multi-fruit pulper which is accommodated at DEXIA's Multi-Purpose Packhouse in Fond Cole. it is hoped to be highly beneficial for both farmers as well as local juicing companies and export markets.
Source: Fresh Plaza, 23 September 2022
Hurricane Fiona makes landfall in in Puerto Rico and the Dominican Republic
Hurricane Fiona made landfall in Puerto Rico on Sunday [18 Sept.], causing life-threatening flooding, mudslides and an island-wide power outage. According to the National Hurricane Center, heavy rains continued across Puerto Rico on Sunday. From Puerto Rico, Fiona moved to the Dominican Republic where it made landfall early this morning [19 Sept.]. Heavy rains and wind will spread over the area through today with life-threatening flooding expected across both Puerto Rico and the eastern Dominican Republic. Fiona could bring a total of up to 30" of rainfall to Puerto Rico and up to 12" to eastern and northern Dominican Republic. After moving away from Puerto Rico and the Dominican Republic, Fiona is expected to further strengthen. As a result, hurricane conditions are expected in parts of the Turks Caicos Islands on Tuesday. Tropical storm conditions are expected in the south-eastern Bahamas by late Monday or early Tuesday.
Source: Fresh Plaza, 19 September 2022
The impact of Hurricane Fiona on the Dominican Republic
Hurricane Fiona made its way through the Dominican Republic yesterday [19 Sept.] after knocking out power and causing seemingly significant damage to Puerto Rico on Sunday. However, some Dominican Republic growers and shippers are thankful that it was not worse. "We are kind of lucky," says Cesar Perez of Frescura Tropical in the Dominican Republic, who says that reports indicated that Fiona lost some strength as she made her way through the Dominican Republic. He says early reports are the same in Miches in the north-east of the country, a production area for coconuts. The storm did bring some much-needed rain following months of drought-like conditions and that weather has since settled into regular rainfall. However, that is limited to parts of the island and Perez says that in regions in the west of the Dominican Republic near the border with Haiti, there has not been any rain yet.
Source: Fresh Plaza, 20 September 2022
Concerns over Dominican Republic banana operations post-Fiona
Hurricane Fiona moved through the Dominican Republic on Monday with 18 eastern provinces on red alert. "Even though the rain was good, it was not good with 12 hours of consecutive wind and storms," said Cesar Perez of Frescura Tropical in the Dominican Republic. Andy Thomas-Stivalet of Kavidac Produce is familiar with the damage that a storm of Fiona's size can do to a growing operation and says there could be concerns over banana production in the country in the near future. He notes that concern would be around leaf damage and leaf shredding which in turn slows growth and damages plants and roots – this is something that can happen already at a wind of 15 knots and reports indicate the island was hit with sustained wind at 78 knots. He adds that sustained +70 knot winds will flatten entire plantations, and that is without taking into account water damage from rising water levels.
Source: Fresh Plaza, 21 September 2022
Jamaican government invests in potato and onion production programme
The government of Jamaica is investing $200 million in a national potato and onion programme to increase the number of hectares under production and to improve yields. Seventy-five percent of the funds has been allocated for potato production and 25% for onion production. According to Agriculture and Fisheries Minister Pearnel Charles Jr, for the upcoming planting season, the intention is to target expansion of the programme in the traditional growing areas of Clarendon, St Catherine, St Elizabeth, Trelawny and St Thomas.
Source: Fresh Plaza, 6 September 2022
Domestic onion production satisfies 40% of Jamaican national demand
Jamaica's agricultural sector has met 40% of the national demand for onions, surpassing the original target of 20%, with growers producing roughly 4,000 tons of the total demand of 10,000 tons last year. In addition, the agricultural sector was also able to meet 70% of the national demand for potatoes, which grew from 15,000 to 17,000 tons. Agriculture and Fisheries Minister Pearnel Charles said that by improving the sector's capacity to meet local demand, the Ministry is focusing on reducing the country's import numbers. Meanwhile, with the impact of the pandemic and the conflict in Ukraine on input costs and supply availability, the Ministry has activated several strategies to help farmers, including the recent provision of over 24,000 bags of fertiliser to farmers across the island and renewed focus on the country's Production Incentive Programme.
Source: Fresh Plaza, 14 September 2022
St Thomas farmers are increasing onion yields
Farmers in St Thomas are being praised for their significant strides in onion production, which has considerably surpassed the national yield. Agriculture and Fisheries Minister Pearnel Charles Jr noted that during the fall season, more than 100 hectares of onion were produced in the parish, with the support of the Ministry's Production Incentive Programme. "The parish also exceeded the national yield of 17 tonnes per hectare, with farmers achieving between 22 and 38 tonnes per hectare. So, before I announced 'Grow Smart, Eat Smart' for efficiency, St Thomas was doing it," said Charles.
Source: Fresh Plaza, 30 August 2022
New pest could decimate tomato crops in Trinidad
The tomato leaf miner, a plant pest new to the area, has been spotted in parts of Trinidad. It has the potential to destroy tomato, pepper and melongene [aubergine] crops. According to an entomologist at the Ministry of Agriculture, Lands and Fisheries, Rishi Mohansingh, the pest, a tiny moth, burrows into the stems of tomato plants and fruits during the caterpillar stage and can cause 80 to 100% plant loss. Mohansingh said the ministry has set out traps to catch the pest and so far have noted the leaf miner along Trinidad's east-west corridor, with some spread also into the Caroni area.
Source: Fresh Plaza, 16 September 2022
Pacific
Papua New Guinean potato growers demand market to sell
Enga province potato growers are calling for government intervention to develop a more efficient supply chain system. They want their supplies to reach the food markets in cities such as Port Moresby and Lae. According to the programme coordinator for the Lagaip Poverty Relievers Association, Tony Sulupin, there is a need to establish an effective and efficient supply chain system for potato so that the 200 farmers can sell their fresh potato without a loss in quality. Sulupin said that potato was not a new crop as people have been used to cultivating it for many years, but to plant on commercial scale, government intervention would be required.
Source: Fresh Plaza, 2 September 2022
Papua New Guinea to embark on developing avocados as an industry
Moves are afoot to develop avocado as an alternative industry in the Asaro Valley of the Eastern Highlands Province of Papua New Guinea. Project initiator and secretary of the Eastern Highlands Agricultural Society, Solepa Aganisafa, said avocado as an alternative crop has the potential of being developed into an industry and will create wealth and economic opportunities for the country. Aganisafa has commenced trial planting of the avocado seedlings on his property after initial research into avocados at the end of 2020. He has identified the main commercial varieties such as Hass and other varieties such as Shepard, Fuerte, Pinkerton and Reed within the locality and is using Reed avocados as rootstocks. Aganisafa is looking to visit New Zealand next year during the World Avocado Congress to engage and learn from the global avocado industry players.
Source: Fresh Plaza, 30 September 2022
Coffee growers in Papua New Guinea explore new ways of working together
In June, five coffee farmers from Papua New Guinea travelled to the World of Coffee in Milan, where their beans were roasted, brewed and sampled by the world's top buyers. They then visited Hamburg and London to meet with more merchants and roasters – a unique opportunity organised by the UK Trade Partnerships Programme. Large multinational enterprises once dominated Papua New Guinea's export business but reforms to the export licensing regime have opened up opportunities for smaller companies to sell overseas. However, getting Papua New Guinea coffee to European and American markets can be challenging. Shipping costs are nine times higher than for African farmers, and four times more than for South American farmers. That makes Papua New Guinea coffee more expensive than similar beans from other regions.
Source: International Trade Centre, 12 September 2022
Reducing horticultural loss in the South Pacific
A new research project, jointly funded by the Australian Centre for International Agricultural Research (ACIAR) and Canada's International Development Research Centre, seeks to reduce horticultural loss in the South Pacific region. ACIAR Research Programme Manager for Horticulture Irene Kernot said the project would focus on food loss in horticulture supply chains in Fiji, Samoa, Solomon Islands and Tonga. "Reducing loss at all points in the value chain will help to boost the availability and affordability of nutritious fruits and vegetables," said Kernot. "In the Pacific region, the health implications of people not eating enough fruit and vegetables result in them experiencing among the world's highest levels of non-communicable diseases such as diabetes."
Source: Fresh Plaza, 29 August 2022
Global
World's first International Plant Health Conference to set global agenda on biosecurity and address challenges in plant health
The world's leading authorities on plant health and biosecurity will come together for the world's first ever International Plant Health Conference, co-organised by the Food and Agriculture Organization of the United Nations, the Secretariat of the International Plant Protection Convention and Defra (UK). More than 500 policymakers, academics and experts from over 74 countries will convene at the Queen Elizabeth II Conference Centre in London to address current and future plant health challenges, including the impacts of climate change, food security, environmental protection, facilitating safe trade, and new pest and disease pathways. Held on 21-23 September, delegates will share knowledge and discuss global scientific, technical and regulatory issues, alongside actions to tackle these existential threats to our society, economy and environment.
Source: UK Government, 21 September 2022
Europe
UK: Lidl to sell misshapen drought-affected vegetables
The supermarket Lidl plans to sell misshapen vegetables that are affected by England's recent drought in an effort to support British farmers. It will also encourage other supermarkets to follow suit in selling "stunted crops". The discounter says it is part of the company's efforts to tackle food waste. British farmers, who supply most of Lidl's fresh vegetables, have been hit hard by the recent hot and dry weather which has dramatically lowered yields. As a result, fruit and vegetables on the shelves will be smaller and look different, although they will taste the same.
Source: BBC, 25 August 2022
Trade
Africa
Economic Development in Africa Report 2022 published
Africa is among the least diversified regions in the world with regard to exports. Commodities account for more than 60% of total merchandise exports in 45 of the 54 countries in Africa, leaving them highly vulnerable to global commodity price shocks and undermining the continent's inclusive growth and development prospects. UNCTAD has recently published the Economic Development in Africa Report 2022 which shows that neglecting the potentially transformative role of high knowledge-intensive services, such as information and communications technology and financial services, is among the key reasons why export diversification remains a challenge in Africa. The report shows that effectively addressing barriers to services trade under the African Continental Free Trade Area will be key to unleashing the transformative role of services in enhancing the diversity and complexity of products from Africa.
Source: UNCTAD, 14 July 2022
Four ways to transform Africa-Caribbean trade
African and Caribbean leaders will meet this week at the first-ever AfriCaribbean Trade and Investment Forum, organised by the Government of Barbados and the African Export-Import Bank. The Forum comes at a pivotal time, when both regions are battling rising inflation like never before and seeking economic stability and growth, including new trading partners. However, Africa-Caribbean trade remains well below its potential. In 2020, not even 0.1% of African exports were destined for Caribbean markets, while Africa bought less than 1% of Caribbean exports. But with the right opportunities, analysis and support, this situation can change. Analysis by staff at the International Trade Centre estimates there is US$1 billion of export potential between the two regions, across goods and services.
Source: International Trade Centre, 26 August 2022
Kenya's produce exporters urged to take advantage of Kenya-UK partnership
Kenya's fresh produce exporters have been urged to take advantage of the Kenya-UK economic partnership that was signed in January 2020 to increase their market share in Britain's imports. According to Kenya's High Commissioner to the UK Manoah Esipisu, Kenya is committed to making sure the partnership bears fruit: "We think we have done all the right things in Kenya to sustain a level of commitment to building what is necessary to foster growth to build our infrastructure, to continue to work on our ICT, our tourism infrastructure, and committing to work on value addition." Statistics indicate that Kenya's exports to the UK stand at about Sh49.5 billion. Of these, 43% comprise vegetables. But despite the UK being Kenya's fifth top export destination – after Uganda, Pakistan, the US and The Netherlands – a report by Oversees Development Institute said trade between the two nations remains relatively stagnant.
Source: Fresh Plaza, 29 September 2022
West Africa Connect: a platform to promote mango and cassava
Micro, Small and Medium-sized Enterprises (MSMEs) in the mango and cassava sectors are being connected to buyers both inside and outside the ECOWAS sub-region to promote regional trade and access to market. At a 2-day event West Africa Connect 2022 focused on creating linkages between mango, cassava and ICT value chain actors, while establishing new and durable business partnerships and increasing commercial transactions. The aim was to strengthen the competitiveness of West African countries and improve the business environment and quality of the products sold and exported from the region, while complying with stringent market requirements on product safety, health and environmental impact.
Source: Fresh Plaza, 22 September 2022
Uganda enjoys increased capacity to access more profitable regional and European markets
Uganda is enjoying increased capacity to access more profitable regional and European markets for its fresh fruits and vegetables thanks to a project aimed at helping the country comply with SPS requirements. Uganda is now exporting 5.8 million tonnes of fresh fruit and vegetables worth US$35 million a year – second only in Sub-Saharan Africa to Nigeria which produces around 11 million tonnes a year. The project helped to develop the capacity to conduct specific survey and monitoring systems and standard operating procedures for five priority pests. The 3-year project was funded by the Standards and Trade Development Facility, the World Trade Organisation, the Ministry of Agriculture, Animal Industry and Fisheries and the Royal Netherlands Embassy.
Source: CABI, 21 September 2022
Caribbean
Barbados Agricultural Society recommends import ban on certain produce
The Barbados Agricultural Society has recommended an import ban for certain produce, which should reduce the island's $700 million food import bill by at least $2 million. According to Chief Executive Officer James Paul, farmers have the capacity to satisfy local demand for pumpkins, watermelons, cucumbers and carrots. He claimed that the importation of those fruits and vegetables was undermining the industry. Paul added that it made no sense to ask farmers to ramp up production to boost the country's food security when imports were still saturating the local market and forcing farmers to sell their products way below market price. That, he said, was a demonstration of disrespect to farmers who toiled to support their families and provide nutritious food for Barbadians.
Source: Fresh Plaza, 5 September 2022
Dominican Republic: Bagrícola to finance pineapple cultivation for export to Europe and US
The Agricultural Bank of the Dominican Republic (Bagrícola) will finance pineapple cultivation for export to small- and medium-sized producers in the provinces of Monte Plata and Sánchez Ramírez, with an investment of US$60 million. According to the administrator of Bagrícola, Fernando Durán, the provinces of Sánchez Ramírez and Monte Plata have land in excellent condition for the production of high-quality pineapple, which meets the demands of European and US markets.
Source: Fresh Plaza, 6 September 2022
Dominican Republic to increase local production of potatoes for industrial use
Dominican Republic President Luis Abinader attended the signing of an inter-institutional agreement between the Ministry of Agriculture, the Ministry of Industry, Commerce and MSMEs, the Agricultural Bank (Bagricola) and the PepsiCo company (Frito Lay Dominicana), to support the growth and empowerment of potato farmers in the municipality of San Juan de la Maguana and Constanza. The agreement establishes a public-private partnership between PepsiCo and the government of the Dominican Republic that will seek to increase local potato production from 7,200 to 14,400 tons.
Source: Fresh Plaza, 1 September 2022
Dominican Republic: Impossible to keep banana prices at the same level
According to Elnio Durán, Ambassador of the Dominican Republic to the United Kingdom and Northern Ireland, the banana plays an important socioeconomic role in its production areas, and it is one of the main agricultural products exported by the Dominican Republic to the UK and the EU. "Right now we are dealing with extremely high production costs, which have increased by 30–40%, but Dominican banana prices have remained stable over these last 2 years," said Elnio. In 2022, the cost of maritime transport in the Dominican Republic has increased by about 41% compared to 2018; land transport has become 58% more expensive, cardboard prices have increased by 14%, those of fertilisers are up by 57% and labour costs are 25% higher.
Source: Fresh Plaza, 15 September 2022
Jamaica: Long-awaited Negril market finally on track
The construction of a multimillion-dollar fruit and vegetable market for Negril is back on track following a long period of delays. Local Government Minister Desmond McKenzie said the contract will be put to tender shortly.
Source: Fresh Plaza, 30 August 2022 https://www.freshplaza.com/article/9454414/jamaica-long-awaited-negril-market-finally-on-track/
Agriculture ministry of St Lucia restarts banana exports
St Lucia's Minister for Agriculture has stated that the fortunes of St Lucia's banana industry are changing for the better: "I am happy to report that we have recommenced the shipment of bananas to the UK for the past 9 weeks. To date, we were able to restore production levels to our contractual obligations of 2000 boxes a week as of the end of July 2022. The hard work and commitment of our farmers, field officers, the Banana Task Force and the NFTO have paid off." However, the minister also said there was still work to be done: "The UK banana market is highly competitive. Once you lose your spot on the market shelves, it becomes an uphill battle to regain that position. Farmers, we must focus on keeping with international standards in order to gain a competitive advantage."
Source: Fresh Plaza, 16 August 2022
Pacific
Citrus from Fiji soon to be exported to New Zealand
Citrus from Fiji will soon be exported for the New Zealand market. This follows the endorsement of the Citrus Export Plan by the Biosecurity Authority of Fiji (BAF), the New Zealand Ministry for Primary Industries, and the New Zealand High Commission to Fiji earlier this week. According to BAF Board Director Jay Whyte, the new market means growth in foreign exchange earnings for the country and additional income for exports and citrus growers. He says the endorsement of the Citrus Export Plan is the first of many export plans to be prepared and implemented for fruit and vegetable exports to New Zealand. The first shipment of citrus exports to New Zealand is expected early next month.
Source: Fresh Plaza, 16 September 2022
Global
How digital connectivity facilitates inclusive global trade
UNCTAD has released a new compendium featuring the experiences of 22 countries participating in its Automated System for Customs Data (ASYCUDA) programme. ASYCUDA – UNCTAD's largest technical assistance programme – supports customs authorities in over 100 countries to expedite the clearance of goods and ease trade. Examples of the ASYCUDA programme in action include in Dominica, 65% of commercial imports were cleared by customs authorities within 24 hours, and in Papua New Guinea, customs authorities reduced clearance times from 7 days to 2 hours in 2021.
Source: UNCTAD, 6 September 2022
ALDI sends a strong signal with a bold banana purchasing reform
On 22 August, ALDI SOUTH Group published its sustainable banana sourcing strategy which brings together fair price purchasing and its corporate responsibility into a genuinely integrated sourcing approach. At the heart of this new approach is what the company calls a "joint open-book costing approach", based on the Fairtrade labelling system's costs of sustainable production methodology, applied to conventional and Fairtrade certified fruit alike. The annual tendering round by potential suppliers, which was widely seen to exacerbate the race to the bottom in banana prices across the EU markets and beyond, is to become a thing of the past.
Source: BananaLink, 23 August 2022
Black Sea Grain Initiative helps stabilise global food markets
The UN-brokered Black Sea Grain Initiative is reintegrating much-needed grains to global markets and contributing to bringing down prices of basic staples across the world. The agreement was signed in Istanbul by the Russian Federation, Turkey, Ukraine and United Nations on 22 July 2022 to help stabilise spiralling food prices worldwide and prevent a food crisis that could affect millions of people. UN Secretary-General António Guterres also announced the establishment on the same day of a Joint Coordination Centre to monitor implementation. As of 12 September, the initiative had enabled over 2.7 million metric tons of grain and other foodstuffs to move from the Ukrainian ports of Odesa, Chornomorsk and Yuzhny.
Source: UNCTAD, 12 September 2022