News Digest: Agri-food Markets, Production and Trade
11/04/2022
Posted by:

Gaetan Dermien

Category:

ACP EN, News
IMPACTS OF WAR IN UKRAINE
EU sanctions against Russia following the invasion of Ukraine
The EU has responded to Russia's military attack against Ukraine by adopting a comprehensive and robust package of restrictive sanctions. The sanctions are listed here.
Source: European Commission, 2022
Russian invasion causes South African citrus issues
South Africa's Citrus Growers' Association (CGA) says it is working closely with exporters, government and other stakeholders across the value chain to mitigate the impact that the Russian invasion of Ukraine is having on local businesses. "This includes fruit destined for Russia being blocked, delays in fruit getting to the market, as well as further increases in input costs for growers and exporters because of the conflict," the CGA explained. When it comes to the Russian market, the country accounts for approximately 7-10% of total South African citrus exports annually.
Source: Fruchthandel, 14 March 2022
Ukraine halts export of key foodstuffs as concerns mount over EU food security
Ukraine's government has introduced export licensing of key foodstuffs including wheat, corn, poultry and sunflower oil, according to the Ukrainian news agency Interfax Ukraine, as EU farmers sound the alarm over food security. The government resolution, which was published on Sunday (6 March), specifies that the decision to introduce zero quotas for exports is extended to corn, oats, buckwheat, millet, sugar and salt suitable for human consumption, subject to licensing in 2022. Ukraine alone accounts for 19% of EU wheat imports and 13% of oilseed imports. Together with Russia, the two agricultural powerhouses provide over a third of the world's wheat and barley, as well as 17% corn and over 50% of sunflower oil and seeds.
Source: EURACTIV, 9 March 2022
FAO warns Ukraine war could trigger 20% food price rise
International food and feed prices could rise by up to 20% as a result of the conflict in Ukraine, triggering a jump in global malnourishment. The Food and Agriculture Organization of the United Nations (FAO) said it was not clear whether Ukraine would be able to harvest crops if the war dragged on, while uncertainty also surrounded the prospects for Russian exports in the coming year. FAO said Russia was the world's largest exporter of wheat and Ukraine was the fifth largest. Together, they provide 19% of the world's barley supply, 14% of wheat, and 4% of maize, making up more than one-third of global cereal exports. Russia is also a world leader in fertiliser exports. "The likely disruptions to agricultural activities of these two major exporters of staple commodities could seriously escalate food insecurity globally," FAO Director General Qu Dongyu said in a statement.
Source: Reuters, 11 March 2022
Afruibana concern at impact of Ukraine war
Afruibana, the association of African producers of bananas and other fruits, has expressed concern regarding the impact of Russia's invasion of Ukraine on the European banana market, the destination for nearly 90% of members' bananas. "The tragedy is unfolding in a context where the European banana market has deteriorated significantly in recent years due to a structural oversupply of Latin American produce and a continuous drop in the price of dessert bananas," said Afruibana. According to the association, the current conflict threatens to exacerbate such difficulties significantly. Afruibana appealed to European institutions and governments to be vigilant in monitoring the market and to consider implementing trade regulation instruments provided for in the free trade agreements signed by the EU or under the WTO.
Source: Eurofruit, 10 March 2022
SHAFFE warns of fallout from Ukraine conflict
The Southern Hemisphere Association of Fresh Fruit Exporters (SHAFFE) has warned Russia's invasion of Ukraine could lead to an oversupply of citrus, apples and pears from its members in other destinations such as the EU and USA as exporters are forced to redirect shipments to other markets. SHAFFE said the resultant financial losses for exporters could further compound the negative impact of the current rise of production and logistical costs facing Southern Hemisphere exporters and growers.
Source: Eurofruit, 28 February 2022
War in Ukraine already impacts logistics chain in Europe
The European supply chain, which was already strained after months of congestion and bottlenecks stemming from the Covid-19 pandemic, is increasingly feeling the effects of the Ukrainian war and the sanctions aimed at punishing Russia for starting the conflict. In the first 2 weeks of March, some European terminal operators rejected ships transporting cargo to the Eurasian country. Britain has banned Russian vessels from entering its ports to restrict Russia's economic interests, and some 20 vessels have already been diverted from British ports.
Source: Fresh Plaza, 15 March 2022
Ukraine war creates pallet pressure
The European Federation of Wooden Pallet & Packaging Manufacturers (FEFPEB) has advised that the conflict could cause significant pressure on the supply of wood, and therefore pallets and packaging, in the coming weeks. in 2021 Ukraine exported more than 2.7 million cubic metres of sawn softwood timber, a significant amount of this for wooden pallets and packaging manufactured in European markets including France, Germany, Italy, the Netherlands and Poland. The country also produced and exported an estimated 15 million pallets, mainly to Europe.
Source: Eurofruit, 9 March 2022
PRODUCTION
Africa
Ethiopia: Report reveals true potential of false banana
Increased production of Ethiopian enset, also known as the false banana, could help reduce global hunger and address climate change, states a recently published paper, "Modelling potential range expansion of an underutilised food security crop in Sub-Saharan Africa". "This is a crop that can play a really important role in addressing food security and sustainable development," said researcher Wendawek Abebe of Hawassa University. Enset fruit is inedible but its stem and roots are used in the south-west of Ethiopia to make porridge and bread.
Source: Eurofruit, 21 January 2022
Ethiopia: Opening of a new avocado oil processing plant
Ethiopia's second avocado oil processing plant, WBM Avocado Oil, was recently opened at the Yirgalem Agro-Industrial Park. Built at a cost of ETB 104 million (about US$2 million), the plant will engage up to 40,000 farmers in avocado production. The new plant is part of the government's import substitution strategy. Although oilseeds represent Ethiopia's third largest export item (US$345 million, 11.5% of exports in 2019/20), 95% of the demand for edible oil is still covered by imports. Due to insufficient local processing capacity (meeting only 3.1% of demand), the government is forced to import palm oil (54% of demand), while private importers cover 11% of demand.
Source: Trésor Direction Générale, 12 January 2021
Kenya: Avocados have had a very good year
The year 2021 was a positive one for Kenyan fresh produce exporter Keitt Group, as operations and trade manager Dipresh Devraj explains, "The past year was a positive one where we recorded a 25% growth in avocado exports, compared to the previous year when the pandemic hampered operations." At the Kenya Avocado Society's annual awards ceremony for Kenya, Keitt Group received the awards for largest exporter and largest orchard.
Source: Fresh Plaza, 11 January 2022
Kenyan avocados clinch fresh access to China
The Kenyan avocado industry has received a welcome boost with China granting access to its fresh products. The deal to export avocados to China, which was originally agreed in April 2019 between Kenyan President Uhuru Kenyatta and his Chinese counterpart Xi Jinping, has finally come to fruition. Fresh avocados were originally excluded from the agreement due to fruit fly fears on the part of the Chinese authorities, with access restricted to frozen produce, but they are now allowed to enter China. The Kenya Plant Health Inspectorate Service announced changes to the import protocol for Kenyan avocados into China in a briefing document sent to the industry. From the document, it appears the Kenyan industry still faces tough compliance regulations before it can start loading containers.
Source: Asiafruit, 28 February 2022
East African Community embarks on capacity building for plant health inspectors
The East African Community Secretariat has embarked on capacity building on standard operating procedures (SOPs) for plant health inspectors at its one-stop border posts (OSBPs) to ensure that the region is protected from threats of pest infestation against key agricultural commodities. The SOPs were developed to operationalise the pest risk analysis for maize, beans and rice that are the most widely traded in the region.
Source: East African Community, 27 January 2022
Madagascar: Deadly tropical storms cause flooding and landslides
In January intense rainfall pummelled Madagascar, sparking multiple crises across the country's central Analamanga Region. The rains were initially driven by an intertropical convergence zone around the equator around 17 January, and increased when a tropical depression, or cyclone, made landfall in the east of the country some 3 days later, exiting the other side of the island the following day. These events add to the developing situation in southern Madagascar, where the World Food Programme recently warned there could be the first-ever famine caused by climate change.
Source: United Nations, 25 January 2022
Tropical Cyclone Batsirai wreaks havoc across Madagascar
UN teams are working with national authorities to provide emergency relief and support to the people of Madagascar. Tropical Cyclone Batsirai's wind and rains caused considerable damage to roads and transport links. Pasqualina DiSirio of the World Food Programme Madagascar said "We know for sure that rice fields, that rice crops will be damaged. This is the main crop for Malagasy people and they will be seriously affected in food security in the next three to six months if we don't do something immediately and we don't help them recover."
Source: United Nations, 7 February 2022
Agriculture of Benin revealed
In a first for Benin, the 2018-2021 National Agricultural Census (NAC) gives an accurate picture of the agricultural sector, the country's largest economic sector, accounting for about 30% of GDP. More than half (6.5 million) of the Beninese population works in agriculture. The average age of the heads of agricultural households is 43.5 years. There are nearly 900,000 farms in the country, which are small, averaging 3.3 hectares. They are also poorly irrigated, only 1.76%, and the rate of mechanisation of soil work is only 12.4%. Only 6.9% of farms have access to credit, and 2% keep accounts. All the results are available on the website of the Ministry of Agriculture, Fisheries and Livestock.
Source: Commodafrica, 26 January 2022
Caribbean
Dominican Republic: Rains affect banana plantations
According to preliminary Ministry of Agriculture evaluations, at least a thousand rice plantations and some banana plantations were affected by the floods in Monte Cristi. So far, it has not been possible to quantify all the damage caused by the floods due to the rains, but when the waters recede and the agency concludes the survey, it will have concrete information on the actual situation. Floods have been reported due to large amounts of rain in the northwest, the north, the Cibao Valley, the borderline, and the Central Mountain Range. Villa Vásquez, Montecristi, has been one of the most affected towns, but several provinces remain on alert.
Source: Fresh Plaza, 4 February 2022
Saint Lucia banana farmers want intervention to resolve industry problems
Banana farmers in the south of Saint Lucia were recently given an opportunity to vent their views as to what steps should be taken to revive the ailing industry in a meeting, organized by the Taiwanese Technical Mission in collaboration with the Banana Productivity Improvement Programme (BPIP). Lucien Labanard, an extension officer attached to the BPIP, stated: "We basically want to feel their pulse as to what it is that they are figuring out the industry should be. How it should be transformed moving forward. We have a situation where we have a number of farmers that were associated with a number of trading companies, who are not able to shift their fruits, and you know right now, we do not have any bananas going to the UK."
Source: Fresh Plaza, 18 February 2022
Jamaican Agri Ministry sets up cold storage pilot to cut farm waste
The Jamaican Ministry of Agriculture and Fisheries wants to hire a consultant or firm to set up a cold storage facility as a pilot test case for reducing losses of fruits and vegetables on small farms. In a statement, the Ministry said: "The financial losses of small Jamaican farmers will continue to increase without adequate mitigation and prevention methods. Therefore, the development of a reliable and efficient cold chain will not only reduce crop losses, but this also means that farmers are not forced to sell harvest produce immediately if there is a glut and prices are low." Last year, the Ministry set aside $157 million to set up cold storage units for farm produce to end wastage in the sector. The move to hire the consultant for the pilot is part of that drive.
Source: Fresh Plaza, 3 February 2022
Jamaica: Portland parish farmers suffer losses after heavy rains
An estimated eight hectares of farm produce were damaged during two days of heavy rainfall, which ravaged farm lands in the Rio Grande Valley of Portland. A preliminary assessment carried out by the Rural Agricultural Development Authority (RADA) has revealed that banana, plantain, pepper, dasheen, pineapple, cocoa and papaya were some of the crops that were damaged after water from nearby rivers flooded several farms. One farmer said it will be a real challenge for him to get back on his feet, as approximately eight and half acres of banana were affected when his farm was flooded on Tuesday. He said that he will need assistance to get the farm up and running again.
Source: Fresh Plaza, 4 February 2022
Jamaica: Farm flood bill exceeds $76 million
Jamaica's Rural Agricultural Development Authority says that preliminary estimates of the losses suffered by livestock and crop farmers in St Ann, St Mary and Portland from the recent torrential rains have been put at $76,815,000. From 31 January to 1 February, the agricultural sector was negatively impacted by flooding resulting in crop and livestock losses, damage to road infrastructure, and loss of farm lands due to erosion and landslides. Minister of Agriculture and Fisheries, Pearnel Charles Jr, said that around 500 farmers had been impacted by the floods which affected banana, plantain, cassava, Irish potato, dasheen and yam crops, as well as vegetables and fruits.
Source: Fresh Plaza, 10 February 2022
Pacific
Tonga volcanic eruption: possible impact on agriculture and fisheries
The impacts of Tonga's massive volcanic eruption and tsunami are only gradually emerging. With roughly 86% of Tongans engaged in agriculture, FAO is extremely concerned about the potential impacts across all agriculture sectors, including fisheries, crops and livestock. Ashfall can have serious detrimental effects on crops and livestock depending mainly on ash thickness, the type and growing conditions of the crop, the timing and intensity of subsequent rainfall, condition of pasture and animals prior to ashfall, and availability of uncontaminated feed and water. Root crops, such as sweet potato and yams, could be affected, while fruit and vegetable crops across the archipelago are certainly also at risk.
Source: FAO Newsroom, 21 January 2022
UN coordinator in Tonga: "Resources on the ground are not enough"
As news coverage of the eruption and tsunami that hit Tonga starts to fade away, the United Nations Coordination Specialist in the country has a message to the outside world: Tonga's people are going to need sustained support responding to a disaster of this scale. Sione Hufanga explained. "We ought to always look at the situation and ask, have we done enough, for this very small country, isolated in the Pacific islands?" He points to damage to the agricultural sector and marine resources as examples. Around 60 to 70% of livestock-rearing households have seen their animals perish, grazing land damaged, or water supplies contaminated.
Source: United Nations, 21 January 2022
Tonga: EU channels emergency assistance
Following a request for assistance, the EU is channelling aid to Tonga in the aftermath of the volcanic eruption of Hunga Tonga-Hunga Ha'apai and tsunami in the South Pacific. A first vessel has departed from French Polynesia to deliver assistance to the affected islands. Via the EU Civil Protection Mechanism, the EU is coordinating with France the delivery of 30 tons of aid. The European Commission is coordinating the delivery and financing 75% of the transporting costs. This material aid comes in addition to €200,000 in initial EU emergency humanitarian aid funding for the Tonga Red Cross Society to assist the most affected communities.
Source: European Commission, 22 January 2022
Hunga eruption and tsunami inflicts huge damage to crops
Damage estimated at nearly $39 million pa'anga was inflicted on Tonga's agricultural sector by the Hunga Tonga and Hunga Ha'apai eruption, which energised a tsunami and heavy volcanic ash fall over Tonga. Viliami Manu, CEO Ministry of Agriculture, estimated the tsunami damage to agriculture at about $9.57 million pa'anga, and the damage to crops caused by ash fall at about $29.31 million pa'anga. He said that the early season root crops, the Tokamu'a, of yams and other root crops, that were almost ready to be harvested, were not affected. However, the Tokamui (late season crops), which were just sprouting, were wiped out. Fortunately seasonal fruit crops such as squash and pumpkins had already been harvested, but other fruit crops such as pawpaw and pineapples were affected. Vegetables, such as lettuces, cabbages, tomatoes and others, were heavily damaged by the ash.
Source: Fresh Plaza, 1 February 2022
Papua New Guinea potato producers want better returns
Potato farmers in the Western Highlands Province of Papua New Guinea are concerned about potato prices. One farmer, from the Tambu-Nebilyer District, said farmers spend a lot on planting but do not get good returns from the harvest. He said there is no proper market for potatoes with a good selling price and farmers are wasting their hard work in planting potatoes. He urged the authorities responsible to seriously look into the needs of potato farmers in rural areas in the Western Highlands.
Source: Fresh Plaza, 10 March 2022
Fijian farmers encouraged to grow vegetables under protection
Agriculture Permanent Secretary Vinesh Kumar says Fiji imports $20 million worth of vegetables annually – tomatoes, capsicum, cucumber, broccoli, cauliflower and lettuce. 90% of farmers in Fiji tend to grow their produce in open fields, which affects the quality of produce during rainy seasons. Mr Kumar recommends farmers to adopt protected cropping or plastic houses to boost productivity.
Source: Fresh Plaza, 14 March 2022
Global
Can vertical farming stand the test of Covid-19 and food insecurity?
Vertical farming consists of growing vegetables indoors, on stacked shelves using artificial lights (LED technology), and controlling temperature and moisture to maximise plant growth. Vertical farming is believed to respond to current global challenges such as growing population, resource scarcity (especially water), and supply chain security. But its popularity is only growing in countries with the required technology and capital to invest in such structures (mainly North America, Asia, Europe, and the Middle East).
Source: IISD, 19 January 2022
Chilean avocado irrigation projects yield impressive water efficiency
A large-scale study of the water efficiency of irrigation technology in Chilean avocado cultivation has concluded its first phase. The impressive results have profound implications for the ongoing sustainable cultivation of avocados in Chile and other water-stressed regions.
Source: Fresh Fruit Portal, 3 February 2022
MARKETS AND TRADE
Africa
Nigeria and Ghana among four African markets that would benefit from AfCFTA
Four hundred business leaders in 46 African countries are confident that their businesses will grow next year, according to a survey conducted by the Pan-African Private Sector Trade and Investment Committee (Paftrac). A majority are also optimistic about the prospects for their business, industry and economic growth over the next 12 to 18 months. In addition, 87% of respondents believe that intra-African trade will increase as a result of the African Continental Free Trade Area (AfCFTA). Paftrac points out that the optimism of these business leaders stems more from their faith in international and regional trade agreements such as the improved trade opportunities afforded by the AfCFTA, rather than from domestic economic recovery strategies such as reduced restrictions due to Covid or an improved domestic business climate.
Source: Commodafrica, 14 December 2021
Tanzania: First avocado shipment to India
The Ministry of Agriculture of Tanzania announced the first shipment of avocados to India in January. The Tanzanian avocado industry has the capacity to produce 40,000 t annually, and the export volume represents 9,000 t per year. The national authorities will continue to support avocado farmers both locally and on international markets.
Source: Fresh Plaza, 24 January 2022
Zimbabwe: Horticulture exports up 6.8% in 2021
Zimbabwe's horticulture exports in 2021 ended up at US$64.6 million, reflecting a 6.8% increase compared to the US$59.5 million recorded in 2020. Trade promotion body ZimTrade confirmed the figures. Major contributors to the export market were macadamia nuts, which contributed US$13.8 million, citrus at US$10.9 million, vegetables at US$4.2 million and flowers at US$3.2 million. "With the horticulture recovery and growth plan under implementation to stimulate export growth, indications are that local farmers will boost production, making it easy to meet requirements by buyers and growing demand," ZimTrade said.
Source: Fresh Plaza, 15 March 2022
Caribbean
Dominican Republic: "If the situation doesn't change, banana production will have no future"
According to Marike De Peña, a small organic producer from the Dominican Republic and president of the Latin American and Caribbean Network of Small Fair Trade Banana Producers, if things do not change, banana producers have no future. "Prices have been decreasing for decades while social and environmental demands have been increasing. Producers are not being paid enough for a box of bananas to cover production costs, and I'm not talking about sustainable production but normal production." De Peña welcomed the conclusions reached by seven Latin American banana countries in mid-January 2022: unite to put pressure on their European buyers.
Source: Fresh Plaza, 24 January 2022
Banana exports from the Colombian Caribbean increase by 14%
In 2021 Colombia exported 1.9 million tons of bananas, 0.8% more than in the previous year. Exports of 864,464 tons came from the Caribbean region, which exported 14% more volume than in 2020 according to data from Asbama, a Colombian banana producers' association. The USA continues to be the main destination for the bananas shipped from the Caribbean region.
Source: Fresh Plaza, 2 February 2022
Latin America: Banana prices are plummeting and farmers are suffering
The Ministers of Agriculture from seven Latin American banana-producing countries – Ecuador, Colombia, Panama, Guatemala, Costa Rica, Dominican Republic, and Honduras – have spoken out in support of banana producers, sounding the alarm over a price crunch that is taking a toll on smallholder farmers, agricultural workers, rural communities and the environment. Fairtrade supports this initiative, and the governments' call for businesses to align with Fairtrade's approach to trade and system of minimum price setting.
Source: Fresh Plaza, 26 January 2022
Pacific
Fiji: Suva Market Vendors Association expects high vegetables prices
Suva Market Vendors Association President Sofia Talei says they are running out of vegetable and root crop supplies at Suva Market. As market vendors experience increasing costs, prices will be as high as $5 a heap for some vegetables. Talei says the market vendors are now paying between $150 to $180 for a bag of ginger and $7 per kg for bhindi (okra), which used to be $1 per kg before the floods. She says they do not have cabbage in the market, as their suppliers' farms in Sigatoka and Naitasiri were devastated in the January floods.
Source: Fresh Plaza, 24 January 2022
Fiji: "Spike in vegetable prices temporary"
Fijian Minister for Agriculture Dr Mahendra Reddy says people need to make adjustments to their menus. He was responding to questions regarding a spike in prices of fresh produce in local markets following widespread flooding last December, which cost the agriculture sector $1.9 million in damage. According to Reddy, price fluctuations are normal and consumers need to make adjustments where necessary. The Ministry is assisting farmers to ensure the supply is sufficient so that vegetables remain affordable. As part of the first of the four assistance programmes, 12,747 farmers received cash assistance of $250 for land preparation, cultivation and procuring planting materials. The amount paid under this programme comes to over $3 million.
Source: Fresh Plaza, 7 February 2022
Customs clearance software to boost trade for Kiribati and Tuvalu
UNCTAD's ASYCUDAWorld will help the vulnerable Pacific Island nations automate import and export clearance procedures, reducing the time and costs needed to move goods across their borders. On 13 December, Kiribati and Tuvalu officially started using the ASYCUDAWorld customs management software to automate import and export clearance processes. The move will make trade easier, faster and cheaper for businesses in the two Pacific island nations, and for those wishing to do business with them. Until now, customs paperwork was processed manually on the islands, a time-consuming process for both customs officers and traders. The automation and simplification of procedures should boost government revenue by ensuring all goods are declared and that the correct duties, taxes and regulations are applied uniformly and consistently.
Source: UNCTAD, 21 December 2021
Europe
Fruit Logistica's European Statistics Handbook published
The latest issue of Fruit Logistica's European Statistics Handbook provides updated figures and detailed analysis of Europe's major fresh fruit and vegetable markets. Industry players can access valuable information free of charge and use it to make better business decisions. As the industry prepares to return to Berlin for the world's leading fresh produce trade fair on 5–7 April, the publication has been expanded this year to include Portugal, Austria, Croatia, Hungary, Bulgaria and Romania. The latter four EU members in south-eastern Europe hold great production potential that has been only partially tapped.
Source: Eurofruit, 17 February 2022
Trend Report on Nutrition 2022 published
Conscious eating is becoming a megatrend in nutrition. For the third edition of the "Trend Report on Nutrition", Nutrition Hub, Germany's largest network for nutrition, joined forces for the first time with the Federal Center for Nutrition (BZfE) and surveyed over 100 experts. A total of ten trends emerged, according to the Federal Agency for Agriculture and Food (BLE). 71% of the nutrition professionals surveyed see climate-friendly and sustainable nutrition as the most important and irreversible development of this decade. 49% observed that demand for vegan and plant-based diets is growing strongly. The increase in digital offerings in nutritional preventive and therapeutic counselling was cited by 30% of the nutrition professionals surveyed. In addition to these top three, there is also a boom in healthy food-to-go.
Source: Fruchthandel, 19 January 2022
France: Drop in organic fruit and vegetables consumption
Interfel announced a 10% drop in consumption of organic fruit and vegetables between October 2020 and October 2021. The general increase in costs, and a reinforcement of the growing trends to consume "locally" and "without pesticides", are factors in sales decreasing. Interfel and Agence Bio are launching a communication campaign on fresh organic fruit and vegetables.
Source: Fresh Plaza, 25 January 2022
Germany: Decreasing fresh fruit and vegetable imports in 2021
In 2021, Germany imported less fruit and vegetables (8.8 million tons) than in 2020 (9.25 million tons). Spain remains the first EU supplier, with 3.05 million tonnes, followed by the Netherlands (–5%) and Italy. Poland increased its exports to Germany, followed by Belgium, South Africa, France and Turkey. Banana is the top import and is continuing to grow, supplied by Costa Rica and Ecuador. Mandarins are the only medium-to-large product whose import volumes rose last year. Mangoes, leeks, ginger, asparagus and celery are less important products in terms of volume, but their imports increased. Finally, the growth of avocadoes seems to have ended.
Source: Fresh Plaza, 4 January 2021
Germany: Covid fuels historic growth in organic sales
Germany is the second largest organic market in the world. A new report entitled "Covid fuels historic growth in organic sales" contains information on the German organic market, including best prospects, and opportunities such as participation in BioFach (26–29 July 2022). In 2020 German consumers spent significantly more money on organic food, but also on food in general. This was partly because options for out-of-home eating were limited. It remains to be seen whether this consumer behaviour translates over to the food service sector beyond the Covid-19 pandemic.
Source: Fresh Plaza, 24 January 2022
Netherlands: Less food waste in supermarkets
In 2020, the amount of food waste in supermarkets in the Netherlands decreased by 3.6% compared to 2018. This is according to research carried out by Wageningen University & Research (WUR) on behalf of the Central Food Trade Office (CBL) and the Ministry of Agriculture, Nature and Food Quality under the auspices of the foundation Samen Tegen Voedselversp wast. Albert Heijn, Aldi, Jumbo, Lidl and Plus, which together cover about 80% of the Dutch market, participated in this self-disclosure. Despite higher sales due to Covid-19 in 2020, the amount of food wastage has decreased significantly compared to 2018, WUR said.
Source: Fruchthandel, 14 March 2022
Spain: Fruit and vegetable consumption continues to decline
According to data from the Food Consumption Panel of the Spanish Ministry of Agriculture, fruit and vegetable consumption by Spanish households decreased by 8% in volume and 9% in value between January and November 2021, compared to 2020. According to FEPEX, the decline in Spanish fruit and vegetable consumption up to November 2021 shows once again that the Covid pandemic and the full and partial curfews have strongly boosted demand. However, comparing the figures to the period in 2019 before the pandemic, there is a slight growth of 1.8%. This could mean, according to the association, that consumers are beginning to appreciate the importance of fruit and vegetables for their health, not only in times of crisis.
Source: Fruchthandel, 15 February 2022
Norwegian retailer no longer sources avocados from certain regions
Norwegian retailer Bama has addressed consumer concerns over the volume of water needed to produce the avocados it sells, saying it deliberately avoids sourcing avocados from areas in Chile and Peru that suffer significant water stress. It also pointed out the relatively low amount of water needed to grow the fruit when compared with meat production. Bama imports around 9,000 tonnes of avocados each year, all from GLOBALG.A.P.-certified farms. These are procured mainly from Peru in the period April to October, and from Chile from September to April. It also imports smaller volumes from countries including Columbia, Israel, Kenya, Spain, Mexico and South Africa to cover the shoulders of the main seasons.
Source: Eurofruit, 14 January 2022
Global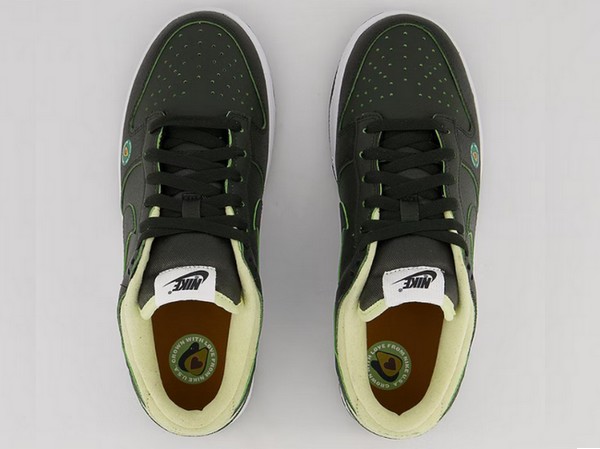 Image: @brandon1an/Fresh Plaza
Nike presents 'Avocado' Dunk sneaker
Nike is creating a food-themed range, "Dunk Low", and the fruit chosen should appeal to millennials. The lining of the trainer looks like the fruit's skin, and the interior its creamy flesh. And a brown insole for the stone!
Source: Fresh Plaza, 11 February 2022
Banana prices recover on the European market
After falling to a low, banana prices on the European market are recovering. "Currently, the market is €12-14 for American bananas and €15-16 for French ones. But in my opinion, the South Americans will overtake the Caribbean and the American banana will soon be €15-16," says François Moran of Tropibana. At the time of the holidays, the price of dollar bananas was €7-8. There are fewer bananas on the market now. In this period when the supply of fruit is less diversified, bananas are in demand. In addition, "there are very few pears on the European market, so people are switching to bananas," adds Moran.
Source: Commodafrica, 1 February 2022
Omer-Decugis Group posts solid results
The Omer-Decugis group, which specialises in fresh and exotic fruits and vegetables, with a strong presence in Africa, reports improved results for fiscal year 2020/2) despite the health crisis and the discontinuation of the institutional and commercial catering business. Revenues rose by 15% to €137.6 million with 119,000 tons of fruit and vegetables delivered.
Source: Commodafrica, 26 January 2022
Produce getting priced out of reefers
Exports may soon become unviable for some fresh produce suppliers as reefer and regular container rates surge. A reefer market update by DHL Global Forwarding said a lack of equipment was adding to the problem. DHL said prices are expected to continue to rise, and at a certain point it may become unprofitable for fresh produce growers to ship their product. Rafael Llerena, chief executive of 3PL EasyFresh, says the situation puts entire export lines at risk, such as the melon trade from Central America.
Source: Fruitnet, 21 January 2022
Air cargo enjoys "stellar year"
The International Air Transport Association (IATA) released data for global air freight markets showing that full-year demand for air cargo increased by 6.9% in 2021 compared to 2019 (pre-Covid levels), and by 18.7% compared to 2020, following a strong performance in December 2021. This was the second biggest improvement in year-on-year demand since IATA started to monitor cargo performance in 1990 (behind 2010's 20.6% gain), outpacing the 9.8% rise in global goods trade by 8.9%. "Air cargo had a stellar year in 2021," said Willie Walsh, IATA's Director General. "For many airlines, it provided a vital source of revenue as passenger demand remained in the doldrums due to Covid-19 travel restrictions."
Source: Fruitnet, 25 January 2022
SHAFFE congress to address "new reality"
The Southern Hemisphere Association for Fresh Fruit Exporters (SHAFFE) will be hosting the 2nd Southern Hemisphere Fresh Fruit Trade Congress 2022 on 30 March 2022 online, with the theme "The new reality of Southern Hemisphere Exports". The programme will explore the rising costs impacting fresh fruit exporters and growers in the region; the opportunities and challenges in mega-markets such as India and China; the current state of play of sustainability requirements in Europe and the USA; and the Southern Hemisphere season outlook for 2022/23.
Source: Fresh Plaza, 10 March 2022
USA: Sales of fresh organic products continue to grow
In the USA, organic fresh produce sales in 2021 continued to grow, with sales reaching $9.2 billion, +5.5% compared to 2020. According to the report published by Organic Produce Network in collaboration with Category Partners, total organic fresh produce sales for 2021 reached $9.2 billion, an increase of $477 million over 2020. The organic fresh berry category (strawberries, blueberries, raspberries, blackberries) was the top performer in 2021 in terms of year-over-year growth, with +14% sales growth and +10% volume growth. Packaged salads were still the #1 organic fresh produce category in terms of total sales, exceeding $1.5 billion USD.
Source: Fructidor, 20 October 2021
Innovation
Kenya – leader in AgTech in Africa?
A publication from the Regional Economic Service (SER) in Nairobi (French Embassy) presents the state-of-play of digital innovations in agriculture in Kenya, and outlines some perspectives. While the agricultural sector is facing many challenges, access to data and digital agricultural innovations (AgTech) is a major lever for transforming agriculture. As the world leader in mobile money, Kenya has integrated this digital component into the agricultural sector. The Kenyan AgTech private sector is now the most dynamic in sub-Saharan Africa, with more than 100 companies listed and concentrating nearly 25% of the region's innovations. Young Kenyan farmers are the biggest users of these technologies.
Source: De l'autre côté de l'Afrique, 9 February 2022
Leading avocado supplier adopts Agrofresh's AgTech platform
Avocado supplier Westfalia Fruit is adopting FreshCloud, Agrofresh's AgTech platform, to digitise inspection data and monitor the supply chain. "FreshCloud Quality Inspection" is Agrofresh's proprietary cloud-based platform that digitises the previously manual quality control process by capturing, organising and analysing quality metrics in real time. With all necessary inspections and actions conducted on mobile devices, FreshCloud will allow Westfalia to track and scorecard the quality metrics of its avocados instantly. Ultimately this will help Westfalia reduce food waste by lowering rejections and improving the consistency of its avocados.
Source: Americafruit, 23 February 2022