ECTAD CARIBBEAN: Taro/dasheen exporters seeking markets
20/09/2021
Posted by:

Gaetan Dermien

Category:

Caribbean, Dasheen, Saint Vincent and the Grenadines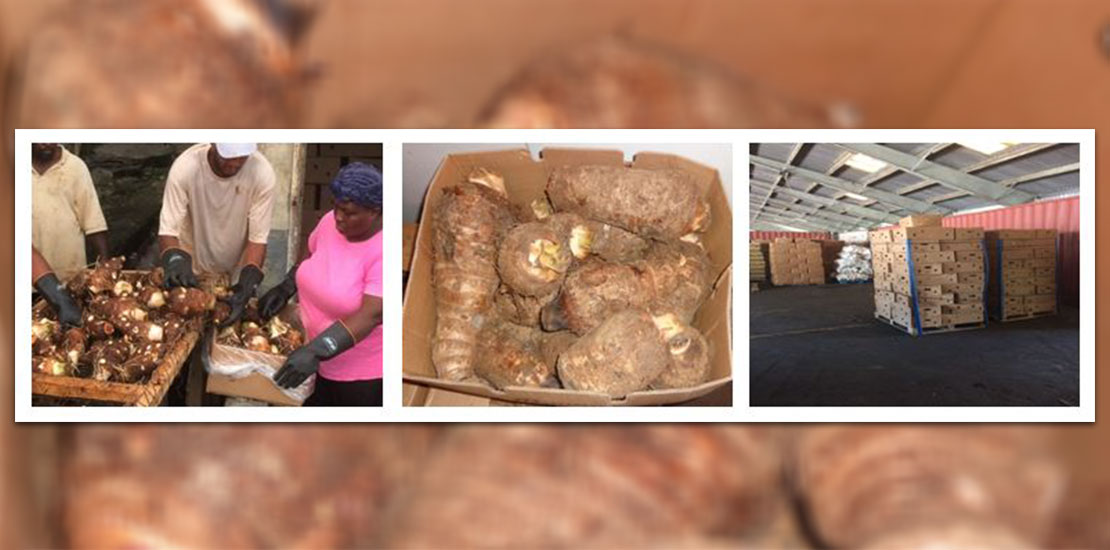 Do you have a European market for taro?
The Eastern Caribbean Trading Agriculture and Development Organisation (ECTAD CARIBBEAN) is a national small farmers' organisation based in St Vincent and the Grenadines, with connections and networks throughout the Caribbean. Its farmers produce a variety of crops, with taro/dasheen (Colocasia esculenta) being one of the main crops exported; secondary crops include eddoes, ginger and sweet potatoes.
The organisation has been marketing taro/dasheen to clients in Europe for over ten years through its integrated production and marketing programme. It is now expanding its operations, looking for additional reliable and sustainable markets within Europe to ensure that its farmers can link their produce to sustainable markets.
Shipping from St Vincent and the Grenadines is available on a weekly basis via the Geestline Shipping Company; it takes 21 days to reach England, from where the produce can be trans-shipped to any part of Europe.
ECTAD CARIBBEAN offers the best competitive prices for these commodities as the farmers themselves are involved not only in producing but also in sorting, grading and packing of products, which reduces the transaction cost.
ECTAD CARIBBEAN has good supplies available and is ready to develop business relationships to supply taro/dasheen and other products to the European market.
Health benefits of gluten-free taro
100 g of taro/dasheen root provides 112 calories, and they are also a source of fats and protein (like cereals and pulses). The protein levels are comparable to other tropical food sources like yam, cassava, potato, plantain, etc.
The corms, however, are free from gluten protein. They carry a high-quality phytonutrient profile comprising dietary fibre and antioxidants, in addition to moderate proportions of minerals and vitamins.
Taro is one of the finest sources of dietary fibre: 100 g flesh provides 4.1 g, or 11% of the daily requirement of dietary fibre.
Yellow-fleshed roots and young, tender leaves have significant levels of phenolic flavonoid pigment antioxidants such as beta-carotenes and cryptoxanthin, along with vitamin A. 100 g fresh taro leaves provide 4825 IU or 161% of RDA of vitamin A.
It also contains good levels of some of the valuable B-complex group of vitamins such as pyridoxine (vitamin B-6), folates, riboflavin, pantothenic acid and thiamin.
Further, the corms provide healthy amounts of some essential minerals including zinc, magnesium, copper, iron and manganese.
The root also has good amounts of potassium, an essential component of cell and body fluids that help regulate heart rate and blood pressure.
This activity is supported by the Fit For Market programme, implemented by COLEACP within the Framework of Development Cooperation between the Organisation of African, Caribbean and Pacific States (OACPS) and the European Union, and co-funded by the French Development Agency (AFD).