COLEACP-PAFO session on Business opportunities for African young entrepreneurs in African and European markets
28/10/2022
Posted by:

Gaetan Dermien

Category:

ACP EN, News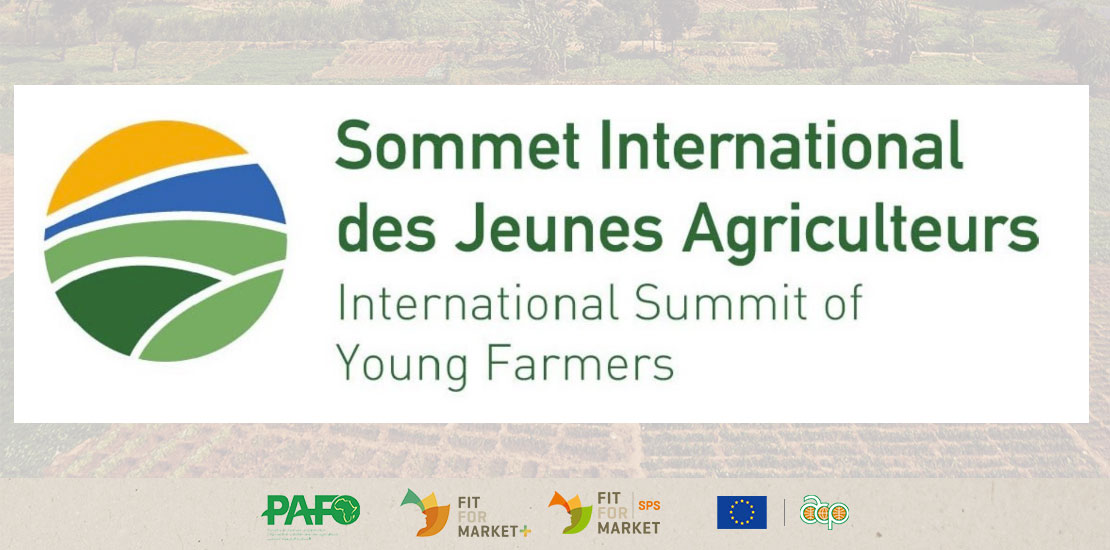 On Wednesday 26 October 2022, COLEACP and the PanAfrican Farmers Organization (PAFO) co-organised a hybrid session on Business opportunities for African young entrepreneurs in African and European markets as part of the 2022 International Young Farmers Summit organised by the PAFO. The main objective of the Summit is to promote, strengthen and spread the voice of young farmers in the international arena.
The joint session featured three African young entrepreneurs (see biodata) who are part of COLEACP's wide network of agri-food businesses operating in African, Caribbean and Pacific (ACP) countries. Mwangi Muturi presented his business Lusoi Greens Limited in the PAFO and COLEACP Innovations Session n°8, while Moussa Faye's and Sandrine Vasselin Kabonga's respective companies Moussa's Bissap and MISAO KIVU were recently featured in the African Diaspora Agrofood Entrepreneurs Compendium published and developed by The Food Bridge and COLEACP. They shared their experiences from Africa and Europe in business development and intercontinental trade (specifically between Africa and Europe).
Moussa's Bissap is a company that produces a variety of Senegalese traditional fruit infusions named "bissap" made from the hibiscus plant. Moussa, born in Senegal and currently residing in Belgium, founded the company in 2014 and has developed a range of high quality drinks bottled in premium glass packaging marketed in Europe (mainly in Belgium). The company works directly in partnership with local farmers and experts in Senegal to produce hibiscus. Since its creation, the production increased from 7 to 30 tons of hibiscus, part of which used for manufacturing the drinks, while the rest of the hibiscus is sold to companies in Germany and the United Kingdom (UK). Moussa's Bissap supports environmental sustainability and generates positive social and economic impacts in Senegal, including by investing part of the earnings from the sales into the hibiscus growing sites.
Moussa's key advice: Building trust through the quality of products is essential, as these will represent the country that they are exported from and will pave the way for others.
MISAO KIVU operates in Belgium and the Democratic Republic of Congo (DRC) to grow, supply and trade rare peppers and rare spices, vanilla, coffee and cocoa from the Kivu region in DRC and from the broader Central African region. Sandrine created the company in 2015 when she noticed that the spice sector did not exist in DRC though the climate and land is ideal for the cultivation of spices. MISAO KIVU established a whole new sub sector of a spice and dried goods in the DRC economy leading to the creation of job and skills development, especially for rural communities. The company promotes a fair and sustainable production approach with agroforestry systems that contribute to preserving biodiversity, which extends to protecting good seeds and finding rare species that would otherwise disappear in mainstream cultivation plots.
Sandrine's key advice: Niche markets are the future of the agricultural market in Africa, and the uniqueness of a product will help to ensure it stands out on global markets. Quality and food safety standards and certifications are key for accessing these (export) markets.
Lusoi Greens Limited is a Kenyan company growing, producing and exporting culinary herbs (e.g. basil, mint, chives, dill etc.), and more recently, vegetables. The company was created in 2018 by Mwangi and exports its products to Europe and the UK but is exploring the sale to other African markets, including Kenya. Lusoi Greens Limited is Global G.A.P. and GRASP certified, as well as member of Sedex. Its efforts on certification and continuous improvement, e.g. having its packhouse BRC (British Retail Consortium) -certified, is supported by the NeXT Kenya programme1 implemented by COLEACP. Lusoi Greens Limited works closely with local communities, particularly women, invests into its staff by paying above the recommended minimum wage, and provides free water to the local community as it is operating in a semi-arid environment. It uses solar power for pumping water, eliminating the use of polluting energy sources.
Mwangi's key advice: Investing in labelling and branding is key as it supports the produce to be associated with high quality, consistency and sustainability. Branding is especially of importance when entering new markets to create recognition.
The joint session was facilitated by COLEACP through the implementation of the Fit For Market SPS programme funded by the European Union within the Framework of Development Cooperation with the Organisation of African, Caribbean and Pacific States (OACPS). COLEACP supports agrifood entrepreneurship development and business growth in ACP regions, and demonstrates a specific focus towards youth-led small and medium enterprises (SMEs) and SMEs which have a positive impact on youth lives. SMEs can request the assistance of COLEACP to improve their capacities in accessing domestic, regional and international market and contributing to a social and fair food system under the new Fit For Market Plus programme.
Young entrepreneurs wanting to present their business or attend the PAFO-COLEACP regular Innovations Sessions, can contact us at: entrepreneursacp@coleacp.org.
1 This programme works to increase the contribution of Kenya's horticultural sector to household incomes, and to improve food security, food safety and nutrition by increasing the resilience, inclusiveness and sustainability of the country's horticultural value chains.