Celebrate young African and Caribbean entrepreneurs
12/08/2022
Posted by:

Gaetan Dermien

Category:

Africa, Caribbean, News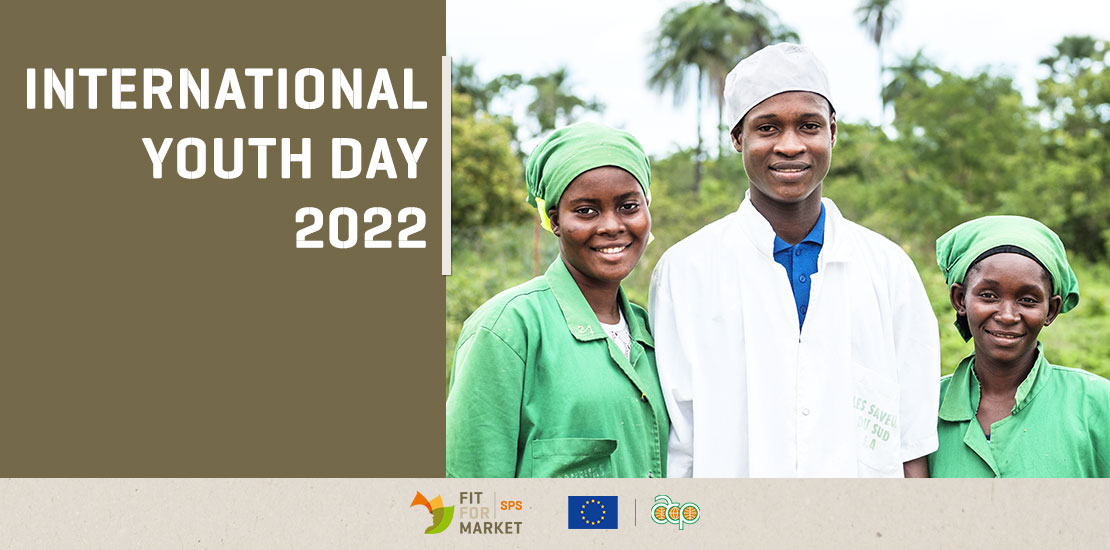 The young people of today and tomorrow play a central role in transforming food systems to provide access to sufficient and nutritious food, and adopt sustainable approaches to address climatic and environmental challenges. There are 1.2 billion young people between the ages of 15 and 24 worldwide (16% of the global population), of whom nearly 1 billion world resides in developing countries. Their numbers are growing far more rapidly than in higher-income countries.1 60% of Africa's 1,2 billion population are below the age of 25, and approximately 52% of the entire Latin America and the Caribbean population are under 29 years old. However, youth unemployment highly affects these regions. Every year, roughly 11 million young Africans enter the labour force, but at best, only a quarter will find paying jobs over the next decade.2 Youth are two times more likely than adults to be unemployed and the growing mismatch between the supply and demand for skills is the main driver of high youth unemployment rates.3 In Latin America and the Caribbean, youth unemployment is three times higher than in the adult population as one in five young people is unable to find work.4
Investing in youth and empowering young agri-entrepreneurs to invest responsibly in their farms and businesses are fundamental to drive youth employment and economic transformation,5 and achieve many Sustainable Development Goals. Many, if not most, of the more than 130 million young people in rural Sub-Saharan Africa are engaged in agriculture to a greater or lesser degree. 6 out of 10 young people in Latin America and the Caribbean work in the informal sector, including agriculture.6
Many young farmers and agri-entrepreneurs are innovators and risk-takers. They are increasingly involved in high-profit businesses related to marketing, processing, packaging, and food services, in addition to on-farm production. They are better informed, better connected and willing to invest in capacity development. Youth needs to be able to access specialised skills development programmes and trainings, information and technical services, to expand thriving businesses. Supporting sustainable food systems is a necessity driving forward a resilient food system that is better for people, planet and prosperity. Green jobs7 can provide more sustainable livelihoods provided that rural youth accesses the necessary skills, market information and available green technologies. Investing in the education and training of young rural people is becoming ever more important as the challenges associated with adopting sustainable, climate-smart production methods and linking up with marketing opportunities in modern value chains are growing.
The International Youth Day 2022 celebrates solidarity across generations to ensure no one is left behind by removing age-related barriers such as employment, policy and health. COLEACP supports entrepreneurship development and business growth in Africa, the Caribbean and the Pacific (ACP) regions, with a specific focus on youth-led enterprises and enterprises which have a positive impact on youth lives. Young entrepreneurs engaged in small and medium enterprises (SMEs), as well as agrifood related businesses and services require assistance to analyse market potential for their products, and to identify and address priority policy and regulatory issues that affect value chain development.
42 African and 18 Caribbean MSMEs presented their best practices, innovations and technologies during the PAFO-COLEACP Innovations Series and the IICA-COLEACP Caribbean Agrifood Business Series. Celebrate with us young entrepreneurs, farmers and agri-entrepreneurs who support sustainability, growth and inclusion, and (re-)discover them by clicking in the links below !
On Thursday 25 August 2022, 10:00-12:00 EST, inspiring Caribbean MSMEs and entrepreneurs will share their experience regarding high-end market opportunities for Caribbean agrifood products during the 6th Caribbean Agrifood Business Session which will be held online (registration).
1 1 UNDESA (United Nations Department of Economic and Social Affairs), Population Division. 2017. World Population Prospects: The 2017 Revision. New York: United Nations.
2 FAO e-agriculture. The future of Africa's Agriculture rests with the youth. 2018.
3 Global Employment Trends for Youth 2020: Technology and the future of jobs. ILO. 2020.
4 ILO, 2019 Labour Overview – Latin America and the Caribbean: Executive Summary.
5 Mastercard Foundation. Michigan State University. Agrifood Youth Employment and Engagement Study. 2016.
6 ILO, 2019 Labour Overview – Latin America and the Caribbean: Executive Summary.
7 Fostering a green entrepreneurial ecosystem for youth – Geneva: ILO 2020.