Boosting intra-Africa trade: the agricultural midstream in the value chain – FFM+ in action at AASW8 side events
23/05/2023
Posted by:

Sandra Borma

Category:

ACP EN, Corp EN, News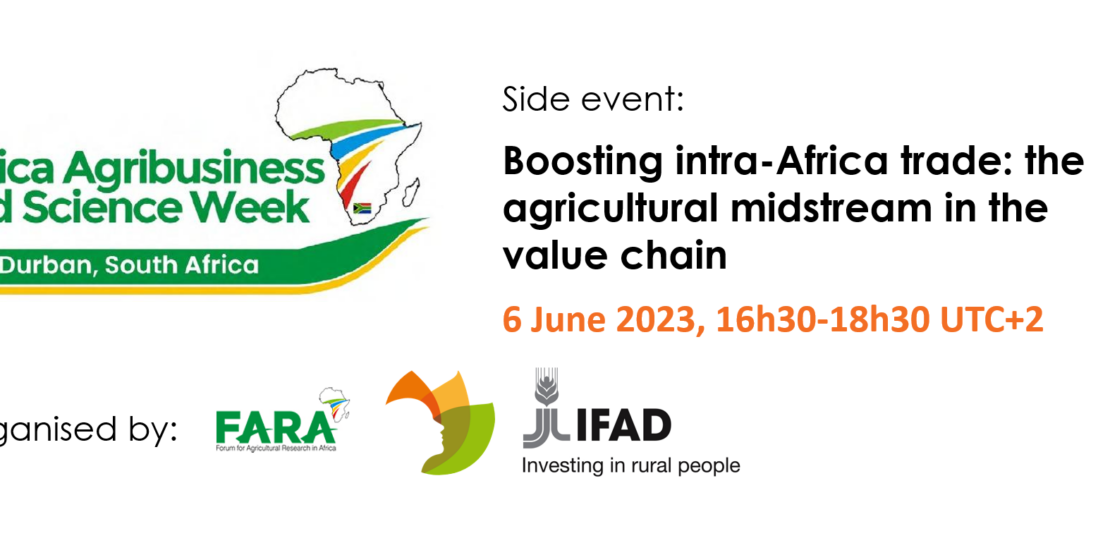 As the link between the primary production of crops and the final stage of consumption, the agricultural midstream sector has a great potential to drive intra-African trade. It includes the processing, storage, and transportation of agricultural products, and it plays a crucial role in improving their quality, and making them marketable. This also contributes to reducing post-harvest losses. At the same time, intra-Africa trade has long been recognized as a crucial driver of economic growth and development for the continent. However, many challenges hinder intra-African trade such as poor infrastructure, high transportation costs, and low productivity. The agricultural midstream can function to mitigate these problems through innovations and the promotion of regional value chains, efforts of which are led by many successful African farmers and agri-entrepreneurs.
On Tuesday 6 June, 4:30-6:30 PM UTC+2, FARA, the COLEAD, and IFAD are convening to host a side event on Boosting intra-Africa trade: the agricultural midstream in the value chain at the 8th African Agribusiness and Science Week (AASW). The side event will feature 2 inspiring African entrepreneurs and a panel of experts.
The session will be held online and on-site in Durban, South Africa. Online participants have to register using this link.
Find the concept note here and biodata here.
Live interpretation in English and French will be available.
The AASW is the main continental platform to share progress and information, network, create business alliances, and map out priorities for joint action. The 8th AASW focuses on strengthening linkages between agribusiness and science plus innovation to improve the continent's productivity and competitiveness in agro-industry. It will be held in Durban, South Africa, from 5 to 7 June.
Registrations are required for on-site participation here.
Stay tuned for upcoming news articles about the stories of featured panellists!
COLEAD's contribution is supported by its Fit For Market Plus programme, implemented within the framework of Development cooperation between the Organisation of African, Caribbean and Pacific States (OACPS), and the European Union (EU).
This publication is supported with the financial support of the EU and the OACPS. Its contents are the sole responsibility of COLEAD and can under no circumstances be regarded as reflecting the position of the EU or the OACPS.